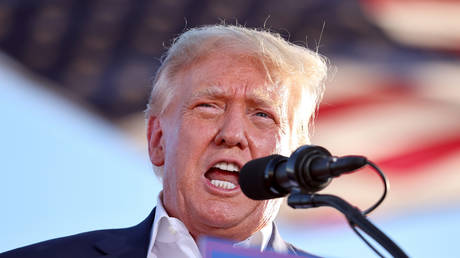 The former president says there is potential for disastrous consequences if he's changed by New York prosecutors Former U.S. President Donald Trump © Getty Images / Mario Tama
Former US President Donald Trump has warned that there could be "death and destruction" if he's indicted for allegedly instructing his lawyer to pay hush money to porn star Stormy Daniels.
"What kind of person can charge another person, in this case a former President of the United States… with a Crime, when it is known by all that NO Crime has been committed," the former president wrote in a Truth Social post on Friday, apparently referring to Manhattan District Attorney Alvin Bragg.
Although he did not mention him by name, Trump claims this person, who he calls a "degenerate psychopath that truly hates the USA," knows that "potential death & destruction in such a false charge could be catastrophic for our Country."
The warning comes after Trump suggested last week that he may soon be arrested by the Manhattan DA's office after he was officially invited to testify before a grand jury investigating a legal case against the former president. The case centers on Trump's alleged payment of $130,000 to adult film star Stormy Daniels via his then-lawyer Michael Cohen during the final stages of his 2016 presidential campaign. It's suggested that the payment was intended to be "hush money" to keep Daniels from speaking about an alleged affair she had with Trump.
The former president has since called on his supporters to "protest" and "take our nation back" in the event that he is officially charged and arrested by the "corrupt and highly political Manhattan district attorney's office."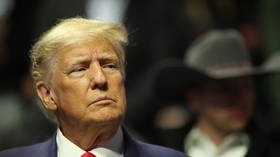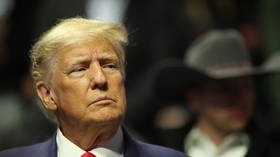 Read more
Trump wants to be handcuffed in court – media
On Wednesday, the New York Times and The Guardian reported that Trump had also told his advisers that he would like to be handcuffed during an upcoming court appearance if he is indicted in order to make a "spectacle" of the situation, according to sources within Trump's camp.
That's despite an earlier Bloomberg report, which claimed that Trump's status as former president meant he would likely not be handcuffed or held in jail by the authorities and would instead remain in the custody of his Secret Service detail.
Manhattan DA Alvin Bragg has yet to confirm or deny reports of a possible arrest and it is still unclear whether the grand jury presiding over the case will choose to pursue an indictment of Trump, which would be the first time a former US president has ever faced criminal charges. (RT)
Azərbaycan24 sosial şəbəkələrdə