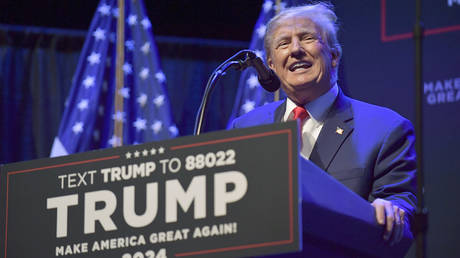 Ron DeSantis has fought to revoke Disney's 'self-governing status' at its theme park Former President Donald Trump speaks at a campaign event in Davenport, Iowa, March 13, 2023. © AP / Ron Johnson
Former President Donald Trump says Florida Governor Ron DeSantis is "being absolutely destroyed" in his months-long battle with Disney, after the governor unveiled a new bill that would give state officials more authority over the company's massive Disney World amusement park.
Trump took aim at DeSantis in a social media post on Tuesday, calling his feud with Disney unnecessary, while condemning the governor's new legislative effort as a political stunt.
"DeSanctus is being absolutely destroyed by Disney. His original PR plan fizzled, so now he's going back with a new one in order to save face," he said, using a disparaging nickname for the governor.
The former leader went on to predict that Disney – one of the state's largest employers – would cut off investments in Florida "because of the governor," suggesting the company "could even announce a slow withdrawal or sale of certain properties, or the whole thing. Watch!"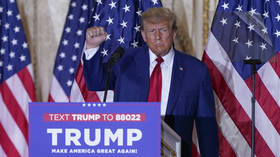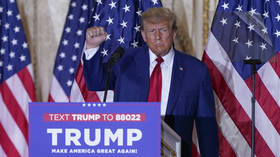 While DeSantis has not announced a 2024 presidential campaign, he is expected to run for the White House and is widely considered Trump's main Republican rival.
On Monday, DeSantis announced a bill that would rescind an agreement Disney struck with state officials earlier this year, which granted Disney free rein to develop the district that hosts its Walt Disney World theme park and its related resorts. While DeSantis previously appointed officials to head up a new state board to oversee the district, the deal with Disney was completed before they began their roles, effectively circumventing the board in giving the company full developmental powers.
"They negotiated with themselves, to give themselves the ability to maintain their self-governing status. Now that's in direct defiance of the will of the people of Florida," the governor told reporters on Monday.
"They thought that they could create some type of development agreements that would essentially render everything that we did null and void and put them in control in perpetuity for this. Well, that's not going to work."
DeSantis' row with Disney kicked off last year after the company publicly opposed his 'Parental Rights in Education' bill, which barred certain public school teachers from classroom discussion or instruction related to sexual orientation or gender identity. Dubbing the act the 'Don't Say Gay bill', Disney said it "should never have been signed into law" and vowed to fight for its repeal.
The governor argued that Disney's statement "crossed the line" and slammed the company for working to "repeal substantive protections for parents." Since then, DeSantis has sought to strip Disney of its broad authority over the district housing its theme park, and more recently, requested an inspector general probe into Disney's development agreement with the state for potential criminal or civil violations. (RT)
Azərbaycan24 sosial şəbəkələrdə