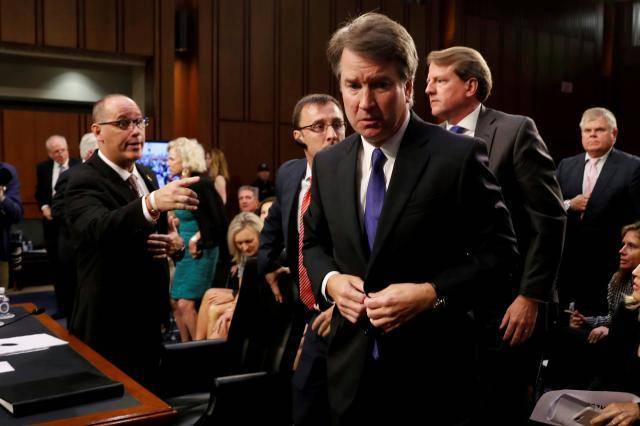 U.S. President Donald Trump's Supreme Court nominee, Brett Kavanaugh, will face a marathon of hostile questioning by Democrats on Wednesday, as his Senate confirmation hearing rolls into its second day.
Kavanaugh could be in the hot seat for up to 12 hours, with Democrats showing on the hearing's first day that they were prepared to probe his suitability for the lifetime appointment on multiple fronts.
They plan to press Kavanaugh on abortion, gun rights and his ability to be independent of Trump, among other issues.
If confirmed, Kavanaugh would move the court, already majority conservative, further to the right. Senate Democrats have vowed a fierce fight. But with Republicans narrowly in control of the Senate, and no sign of any of them voting against the nomination, it remains likely that Kavanaugh will be confirmed.
Trump picked Kavanaugh, 53, to replace Justice Anthony Kennedy, who announced his retirement on June 27.
Tuesday's opening session was dominated by Democrats demanding in vain that the hearing be delayed so they could review documents from Kavanaugh's time as staff secretary to former Republican President George W. Bush from 2003 to 2006. The job involved managing paper flow from advisers to Bush.
The hearing was also repeatedly disrupted by protesters, with 61 people removed from the room.
Republicans have released some, but not all, of the existing documents concerning Kavanaugh's two prior years as a lawyer in Bush's White House Counsel's Office.
They say Democrats have more than enough documents to assess Kavanaugh's record, including his 12 years of judicial opinions as a judge on the U.S. Court of Appeals for the District of Columbia Circuit.
The hearing gives Democrats a platform to make their case against Kavanaugh ahead of November's congressional elections in which they are seeking to take back control of Congress from Republicans.
Liberals are concerned Kavanaugh could provide a decisive fifth vote on the nine-justice court to overturn or weaken the landmark 1973 Roe v. Wade ruling that legalized abortion nationwide.
Kavanaugh also is likely to be questioned about his views on investigating sitting presidents and the probe by Special Counsel Robert Mueller into alleged Russian meddling in the 2016 U.S. presidential election and possible collusion between Moscow and Trump's 2016 campaign. Trump, who denies any collusion took place, has called the Mueller probe a 'witch hunt."
Azərbaycan24 sosial şəbəkələrdə