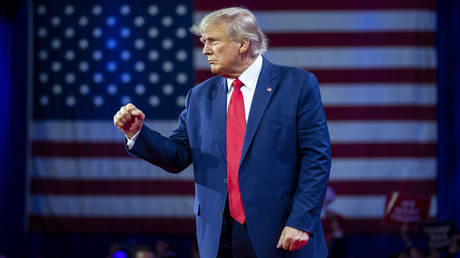 The Republican firebrand claimed that if elected president in 2024, he would be able to get Moscow and Kiev to stop hostilities FILE PHOTO. Former US President Donald Trump. © AP Photo/Alex Brandon
Former US president Donald Trump has promised to put a swift end to the bloodshed in Ukraine should he be elected again in 2024. The Republican also trashed the incumbent Joe Biden's foreign policy, claiming it has made the world a more dangerous place.
Speaking to his supporters in Fort Myers, Florida, on Friday, Trump said: "Before I even arrive at the Oval Office, shortly after we win the presidency, I will have the horrible war between Russia and Ukraine settled. I'll get it settled very quickly."
He explained that he "know[s] both" Russian President Vladimir Putin and Ukrainian leader Vladimir Zelensky.
Trump, who served as president from 2017 until 2021, claimed that he "got along" with the Russian head of state, and that Putin would not have launched his military campaign against Ukraine had Trump been in office.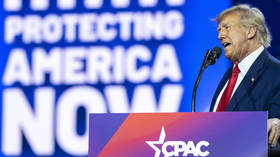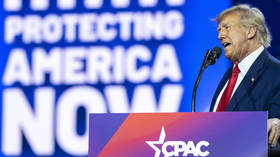 "It's still pretty easy for me to do," the Republican insisted, referring to ending the conflict that has gone on for more than a year.
He went on to allege that other countries' leaders have lost respect for the US under Biden's leadership because of his allegedly poor handling of America's foreign policy. To regain it, Trump argued, "you don't need bullets, you don't need tanks, you don't need weapons of any kind, you just need some common sense."
The former US president described himself as the "only candidate" who could promise to prevent the US from getting involved in World War III. If "these incompetent people" remain in office, however, there "will be a war like no other" with belligerent parties using nuclear weapons, Trump warned.
Last month, the Republican hopeful publicly asserted on at least two occasions that it would take him 24 hours to get Russia and Ukraine to end the fighting and negotiate if he were to be reelected.
Talks between Kiev and Moscow were suspended last April by the Ukrainian leadership. Kiev accused the retreating Russian military of committing atrocities in several Kiev suburbs, a claim Moscow has denied.
In October of last year, President Zelensky signed a decree, ruling out talks with his Russian counterpart. That order was given after Russia absorbed four Ukrainian regions following referendums.
The Kremlin maintains that it is open to peace negotiations in principle as long as Kiev relinquishes its claim to the territories and agrees to Russia's terms.
Ukraine, in turn, says it is determined to resolve the issue by winning the conflict on the battlefield. (RT)
Azərbaycan24 sosial şəbəkələrdə