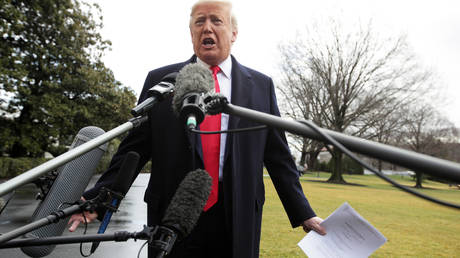 Federal prosecutors are reportedly in possession of a recording of Trump appearing to admit he has kept sensitive military files Donald Trump holds a copy of a court document as he speaks to members of the media prior to his Marine One departure from the White House February 7, 2020 in Washington, DC © Getty Images / Alex Wong/Getty Images
Attorneys for Donald Trump are unable to locate a highly classified document that reportedly details plans for a hypothetical attack on Iran, which the former US president described as being in his possession in a 2021 audio recording, according to a report by CNN on Friday.
In mid-March, Trump's legal team handed over various materials related to the sensitive US military document but informed the Justice Department that they could not locate the document itself, CNN said, citing two sources familiar with the matter. Earlier this week, the network also reported on the existence of an audio recording from 2021 in which Trump admits that he kept classified Pentagon plans detailing options for confronting Iran.
Federal prosecutors in March requested "any and all" documents which may have been in Trump's possession related to Mark Milley, who was appointed as chairman of the Joint Chiefs of Staff by Trump in 2019, as well as Iran, CNN's sources say. As part of the Justice Department probe led by special prosecutor Jack Smith, a subpoena was also sent to another person who attended the meeting at Trump's golf club in Bedminster, New Jersey, where the audio clip was recorded in July 2021.
Trump has previously asserted that, as president, he had the right to declassify sensitive documents. However, in the recording, Trump reportedly acknowledges his understanding that he could not declassify the document because he had already left office.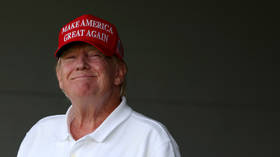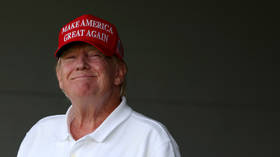 Read more
Trump admitted keeping classified doc on Iran – CNN
Speaking at a Fox News town hall event on Thursday following CNN's report of the audio recording, Trump said: "I don't know anything about it. All I know is this, everything I did was right. We had the Presidential Records Act which I abided by 100%."
Prosecutors specifically requested the Iran document mentioned by Trump in the recording, as well as any other materials related to it, including notes and copies, the CNN report says. The US government previously seized dozens of documents, including classified material, in an FBI raid of Trump's Mar-a-Lago estate in Florida last August.
The recording of Trump, which occurred around six months after he left office, is reported to feature him reacting to an article in the New Yorker magazine, which stated that Milley had taken steps to ensure that Trump didn't issue any illegal orders as he prepared to leave the White House following his 2020 election defeat by Joe Biden.
The audio reportedly captures Trump rebutting Milley's claims and the sounds of a document being waved around, which he said would undermine the allegations. Other parties in the recording can be heard laughing when Trump notes that he is not entitled to show the document to anyone, the report states. Smith's investigation is thought to be in its final stages with further developments expected this summer. (RT)
Azərbaycan24 sosial şəbəkələrdə