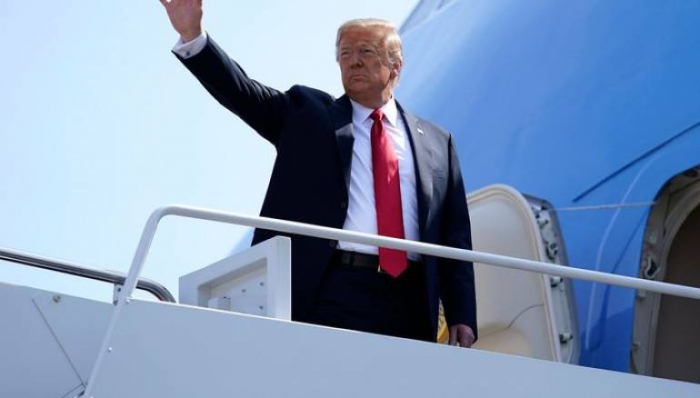 US President Donald Trump headed to coronavirus-stricken Florida on Friday to attend a campaign fundraiser, ignoring health advice about the dangers of large gatherings as he ramps up public appearances ahead of the election, according to AFP.
The virus has claimed more than 4,000 lives in the Sunshine State, where Republican governor Ron DeSantis downplayed the outbreak early on but has since been forced to pause reopening.
The US is by far the hardest-hit country in the world, with more than 3.1 million confirmed infections and 133,000 dead.
Florida was among at least six states that set single-day case records on Thursday, alongside Texas, Alabama, Idaho, Missouri, Montana, and Oregon.
Florida and Texas also registered their highest daily death counts — 98 and 120 respectively.
"The tsunami is here," said Richard Cortez, the chief executive of Hidalgo County in south Texas, after 1,274 cases were confirmed in the past 24 hours in the jurisdiction of fewer than 900,000 people.
By way of comparison, Melbourne in Australia, a city of five million, reimposed a lockdown after 191 tested positive in a day.
"As a country, when you compare us to other countries, I don't think you can say we're doing great," Anthony Fauci, the country's top infectious disease official told political analysis website FiveThirtyEight on Thursday.
He went on to partly blame the atmosphere of political divisiveness in the country — for example the way in which masks were initially shunned by right wing political leaders, many of whom have since shifted on the issue.
"I think you'd have to make the assumption that if there wasn't such divisiveness, that we would have a more coordinated approach," said Fauci.
Trump, for his part, hit out at the respected scientist, telling Fox News on Thursday: "Dr Fauci is a nice man, but he's made a lot of mistakes."
"A lot of them said 'don't wear a mask, don't wear a mask,'" the president added. "Now they are saying 'wear a mask.' A lot of mistakes were made, a lot of mistakes."