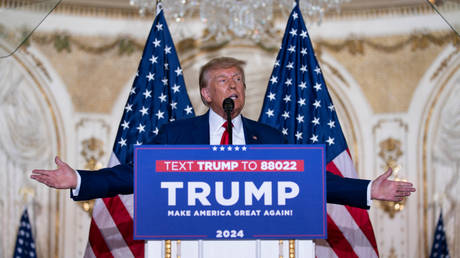 The ex-leader said he has been targeted with a long list of "fake" allegations since his 2016 election win Former President Donald Trump speaks at his Mar-a-Lago estate in Palm Beach, Florida, April 4, 2023. © AP / Evan Vucci
In a speech from his Mar-a-Lago resort in Florida, former President Donald Trump railed against New York prosecutors after pleading not guilty to 34 criminal counts, also accusing Democrats of political persecution and "fraudulent investigations."
Trump delivered the address to a live audience on Tuesday night, insisting there is "no case" against him after returning home from New York, where he was arraigned on charges of falsifying business records earlier in the day.
"I never thought anything like this could happen in America… The only crime that I have committed is to fearlessly defend our nation from those who seek to destroy it," he said, adding that the latest case is part of an "onslaught of fraudulent investigations" brought by Democrats.
Trump argued that since his rivals "can't beat us at the ballot box," they have tried to "beat us through the law," reiterating some of his previous claims of widesp
Taking the tone of a presidential candidate, the former leader went on to fire a litany of criticisms at Democrats and President Joe Biden, slamming them for high inflation "crippling" the US economy, "raging crime statistics" and "open borders" immigration policies. He warned that Biden could lead the country into "an all-out nuclear World War III," apparently referring to US involvement in the conflict in Ukraine.
The Manhattan's District Attorney's office has accused Trump of arranging a hush-money payment to adult film actress Daniels in order to keep her from going public about an alleged affair, and later attempting to cover up the transfer through falsified records. Prosecutors also claim he knowingly tried to conceal other crimes using the falsified documents, providing a basis for felony charges rather than misdemeanors.
Trump has denied all wrongdoing, calling the indictment a "witch hunt" and "political persecution" by Manhattan DA Alvin Bragg, who he described as a "radical left George Soros-backed prosecutor" during his speech on Tuesday night.
The DA's office has said it expects to produce most of its evidence for discovery in the next 65 days, while Trump's defense has until early August to file any motions against the case. Though Judge Juan Merchan has scheduled the next in-person hearing for December 4, attorneys for Trump say they hope to get the case dismissed before it can go to trial. (RT)
Azərbaycan24 sosial şəbəkələrdə