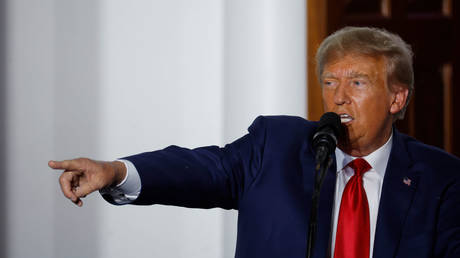 The former US president has warned that ousting Vladimir Putin could make matters worse Former US President Donald Trump speaks at an event earlier this month in Bedminster, New Jersey. © Getty Images / Chip Somodevilla
Former US president Donald Trump has splashed cold water on Western hopes that this week's conflict between military contractor Wagner Group and Russia's top generals could lead to the toppling of Moscow's government, warning that ousting President Vladimir Putin could have unintended consequences.
"A big mess in Russia, but be careful what you wish for," the former president said on Saturday in a Truth Social post. "Next in may be far worse!"
Trump reacted to the unrest in Russia just before news broke that Wagner founder Evgeny Prigozhin had agreed to end his rebellion and halt his group's advance on Moscow. Under an agreement with the Kremlin, the former Putin ally will leave Russia and be spared prosecution.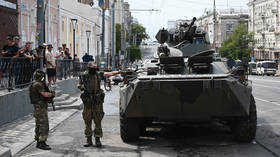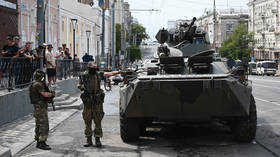 Ukrainian President Vladimir Zelensky cheered the short-lived Wagner uprising, but his Western backers refrained from openly rooting for an overthrow of Putin's government. US President Joe Biden, who has previously called for regime change in Russia, was reported to be "consulting with allies and partners" on the situation in Moscow.
Western media outlets were less restrained in touting the Wagner revolt as an existential crisis for the Russian government. Kurt Volker, former US ambassador to NATO, told CNN that the unrest marked "the end for Putin" and "the beginning of the end of Russia's war in Ukraine."
Trump took a shot at his successor, saying Biden would "do about Russia whatever President Xi [Jinping] of China wants him to do." Alluding to allegations that the Biden family received bribes from business contacts with ties to the Chinese Communist Party, he suggested that the US president was beholden to Xi.
"China and Russia, until Biden came along, have always been natural enemies, with China wanting large portions of largely unpopulated Russian land to have for their much larger population," Trump said. "This is China's heretofore unthinkable opportunity – much bigger than Taiwan, which to President Xi can wait." (RT)
Azərbaycan24 sosial şəbəkələrdə