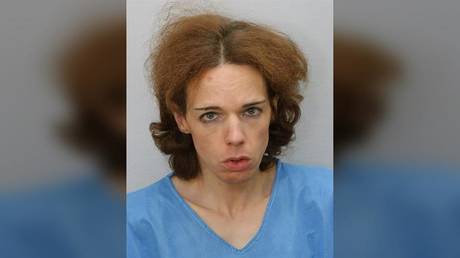 Before allegedly stabbing his own father to death, Michael Horwitz was a rising star in the LGBT scene A mugshot of Michael Horwitz, released by the Virginia Beach Sheriff's Office on June 4, 2023 © Virginia Beach Sheriff's Office
A transgender drag queen who describes himself as "Portland's premiere Anne Frank impersonator" has been arrested in Virginia for stabbing his father to death. In a 2018 novel, Michael Horwitz described how his family was unhappy with his lifestyle.
Horwitz, whom police named as both Michael and 'Norah', was arrested on Saturday and charged with second-degree murder, the Virginia Beach Police Department said in a statement. Officers had responded to a call for assistance, and found Horwitz's father, Dr. Abbey Horwitz, suffering from multiple stab wounds. He was pronounced dead shortly afterwards.
Prior to his gender transition, Horwitz performed in Portland, Oregon, as a drag queen with the stage name 'Menorah Horwitz'. Something of a local celebrity, Horwitz wrote a series of 'Pride Month' articles for the Portland Mercury in 2017, and published an autobiographical graphic novel in 2018 entitled 'The Diary of Menorah Horwitz'.
A #trans artist & drag queen from #Portland, Ore. has been arrested in Virginia Beach, Va. and charged with murder. Michael Horwitz, who uses the fake name "Norah," allegedly stabbed her father to death in a horrific home attack.Before identifying as a woman, Horwitz was a drag… pic.twitter.com/wBCc0cwiej

— Andy Ngô 🏳️🌈 (@MrAndyNgo) June 6, 2023
According to its jacket, the book describes how "Michael Horwitz, a shy 29 year-old gay illustrator, combines Judaism and a love of drag in all the wrong ways when he becomes Menorah, Portland's premiere Anne Frank impersonator."
"But not everyone is happy with Michael's new alter ego," the blurb continues, "specifically his very supportive family." It is unclear whether a dispute over Horwitz's lifestyle or gender transition led to his father's stabbing.
Horwitz has performed alongside drag queen 'Sharon Needles', who competed on 'RuPaul's Drag Race', and was named "A queer to watch" by The Advocate in 2015. With a circulation of more than 175,000, The Advocate bills itself as "the world's leading source of LGBT news."
According to feminist news site Reduxx.com, Horwitz appeared in court on Monday and was assigned a public defender. (RT)
Azərbaycan24 sosial şəbəkələrdə