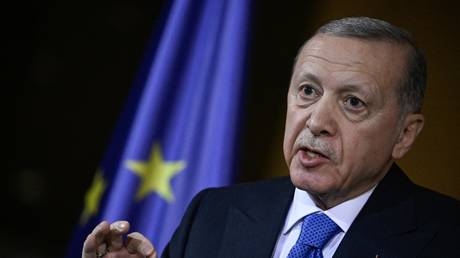 The world must know the truth "before it's too late," President Recep Tayyip says Turkish President Recep Tayyip Erdogan speaks at an event in Berlin on November 17, 2023. © Tobias Schwarz / AFP
Türkiye will ask international inspectors to determine whether Israel has nuclear weapons in its possession, President Recep Tayyip Erdogan announced on Saturday.
Speaking to reporters on his flight home from Germany, the Turkish leader noted that Israel is among the very few countries that are not parties to the 1968 Treaty on the Non-Proliferation of Nuclear Weapons.
Erdogan said that Ankara would ask the International Atomic Energy Agency to investigate whether the Jewish state has a nuclear arsenal.
"Moving forward with this is very important in terms of balancing strategic interests in the region. We will continue to put pressure [on Israel]," Erdogan said. "Israel's nuclear weapons must be inspected beyond any doubt before it is too late. We will follow this through. I also call on the international community not to let this go."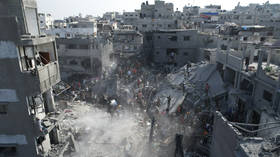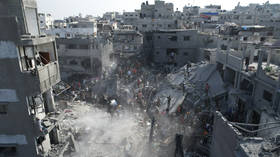 Read more
Arab states respond to Israeli minister's 'nuke Gaza' threat
Although experts widely believe that Israel maintains a secret nuclear weapons program, the country does not confirm or explicitly deny its existence. Heritage Minister Amihai Eliyahu caused outrage across the Muslim world this month when he floated the idea of dropping a "nuclear bomb" on the Gaza Strip. Prime Minister Benjamin Netahyau suspended the minister from cabinet meetings following his incendiary comments.
Erdogan has strongly criticized Israel's conduct in Gaza, labeling it a "terror state" and accusing the Israel Defense Forces of committing war crimes against the Palestinians. Netanyahu responded by accusing the Turkish president of supporting "the terrorist state of Hamas."
The current round of violence between Israel and Hamas broke out on October 7 when Palestinian militants attacked Israeli communities, killing some 1,200 people, mostly civilians, and taking over 200 hostages. Israel responded with airstrikes and a ground invasion of Gaza. More than 12,000 Gazans have been killed by the bombardment, according to local officials. (RT)
Azərbaycan24 sosial şəbəkələrdə