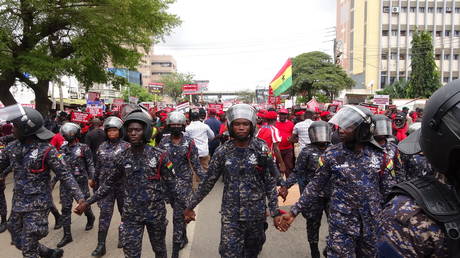 Demonstrators want the central bank's governor to resign for allegedly dragging the country into hardship People hold placards as they gather to protest against the deteriorating economic conditions in the country and against the Bank of Ghana on October 3, 2023, in Accra, Ghana. © Kwame Adzaho Amenortor / Anadolu Agency via Getty Images
Thousands of protesters and pressure groups marched in Ghana's capital, Accra, on Tuesday to demand the resignation of central bank governor Ernest Addison and his deputies, whose financial policies they blame for the country's economic problems.
The opposition National Democratic Congress (NDC) and its allies, who organized the "OccupyBoGProtest" demonstrations, accused the Bank of Ghana (BoG) leadership of supervising the loss of funds, poor management, and causing inflation to soar to 40%.
"If the whole country needs 1 billion [dollars] from the IMF every year for three years to fix our problem and Addison in one year can superintend the loss of 5 billion, who's our problem?" Samuel Nartey George, a member of the minority in parliament, told reporters during the protest.
Former BoG employee Komevor Tettegah also criticized the central bank in an interview with the state newspaper Daily Graphic, claiming it was the first time in Ghana's history that the institution had suffered a "big loss of over 60 billion cedis" due to mismanagement.
In July, Ghana's central bank reported a record loss of 60.8 billion cedi ($5.3 billion) for 2022, owing primarily to debt restructuring.
The West African country, a major producer of gold and cocoa, reached an agreement with banks in June to restructure 15 billion cedis of locally issued US dollar bonds and cocoa bills.
The debt restructuring is one of the conditions the government needs to fulfill to secure funding from the International Monetary Fund (IMF) as part of a three-year, $3 billion loan program aimed at addressing economic challenges.
Last month, Addison, who has been governor of the BoG since 2017 and has two years left in his term, announced that the policy mix under the three-year IMF extended credit facility was beginning to produce positive results. He claimed that the Ghanaian economy was recovering strongly, with a stable exchange rate, lower inflation, and increased foreign exchange reserves.
However, protesters expressed concern on Tuesday about the country's "deteriorating" situation, characterized by unemployment and hardship, while protest organizers, who had failed to present a petition to the governor, vowed not to give up until they succeeded.
"Governor Addison has decided to disrespect us with the excuse that he is meeting with the International Monetary Fund (IMF) when he could have given us 10 minutes of his time," NDC minority leader Casiel Ato Forson said.
.mediaplayer { min-height: 150px; } .jwplayer .jw-controls .jw-controlbar .jw-icon-cc { display: none; }
.media__video_noscript { position: absolute; top: 0; left: 0; right: 0; bottom: 0; height: 100%; width: 100%; } .full_transcript_text { display: block; }
(RT)
Azərbaycan24 sosial şəbəkələrdə