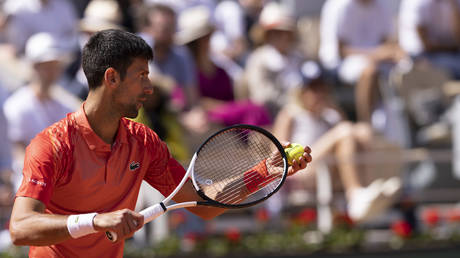 French Open organizers say no there are no rules banning players from expressing their opinions Novak Djokovic of Serbia during their Men's Singles First Round Match on Day Two of the 2023 French Open at Roland Garros on May 29, 2023 in Paris, France. © Getty Images / Tnani Badreddine; DeFodi Images
Novak Djokovic is unlikely to face punishment for his message on Kosovo issued at the French Open, tournament officials have said. The tennis star wrote "Kosovo is the heart of Serbia" on a courtside camera following his first-round victory on Monday.
In a statement quoted by The Mirror, officials at Roland-Garros said "there are no official Grand Slam rules on what players can or cannot say." Organizers added that "the French Federation of Tennis (FFT) will not be making any statement or taking any stance on this matter."
Djokovic himself acknowledged that his camera message had sparked criticism from some online, but insisted that he would "do it again," regardless of any punishment. The 22-time Grand Slam winner stressed that he is against war and conflict of any kind.
"As a Serb, it hurts me what is happening in Kosovo," Djokovic told journalists. "Our people have been expelled from the municipalities. I feel the responsibility as a public figure to show support, and I especially feel it as the son of a man who was born in Kosovo. This is the least I could do."
"Kosovo is our heart, stronghold, the center of the most important events, the biggest battle took place there, the most monasteries. There are many reasons why I wrote this," he explained.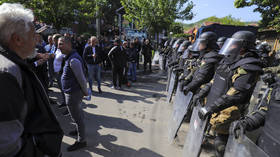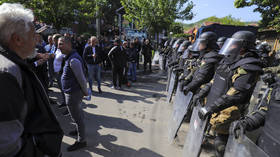 Read more
50 injured as NATO troops clash with Serb demonstrators
Djokovic's comments came after violence broke out in several Kosovo towns on Monday, as local Serbs protested against newly installed Albanian mayors. NATO Kosovo Force (KFOR) troops used stun grenades and tear gas after demonstrators staged a sit-down outside municipal buildings, preventing the Albanian officials from taking office. Around 50 Serb protesters and some 25 KFOR troops were injured in the resulting skirmish.
After the violence, Serbian President Aleksandar Vucic accused Kosovo's ethnic Albanian prime minister, Albin Kurti, of trying to "provoke a major conflict between the Serbs and NATO." Vucic warned that Serbia "will not allow a pogrom or the killing of its people."
Kosovo is historically a province of Serbia, but its Serb population plummeted due to expulsions during World War II and after NATO waged an air war against Serbia in 1999. More than 150 Serbian Orthodox churches, graveyards, and monasteries were destroyed by Albanian separatists between 1999 and 2004, and Kosovo unilaterally declared independence from Serbia in 2008, backed by the US and most of its NATO allies. The breakaway region is not recognized by numerous countries, including Russia, China, and Serbia itself. (RT)
Azərbaycan24 sosial şəbəkələrdə