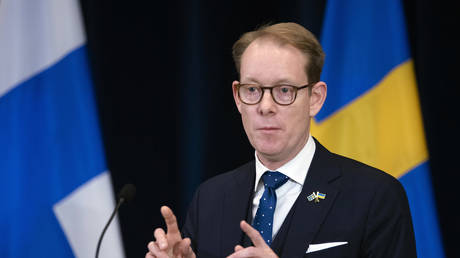 Ankara has blocked Stockholm's bid for NATO membership, accusing the Nordic nation of harboring Kurdish terrorists Swedish Foreign Minister Tobias Billstrom speaks at a news conference in Washington DC, December 8, 2022 © AP / Cliff Owen
New anti-terrorism legislation should pave the way for Türkiye to sign off on Sweden's accession to NATO, Swedish Foreign Minister Tobias Billstrom said on Wednesday. The Nordic country applied with Finland for membership in the military bloc last year, but Ankara refused to ratify either bid without significant concessions.
"This new legislation will close a loophole in our already existing anti-terrorist legislation," Billstrom told reporters. "Sweden has not previously prohibited participation in a terrorist organization. We will do this now."
The law was adopted by Sweden's parliament earlier this month and comes into force this week. Crucially for Türkiye, it criminalizes membership in the Kurdistan Workers' Party (PKK), which Ankara considers a terrorist group, and makes it illegal for Swedes to provide the organization with financial or logistical aid.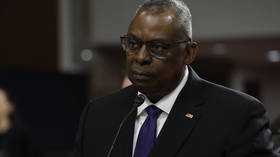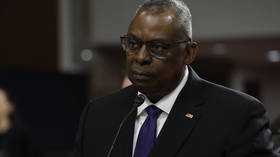 With the law in place, Billstrom said that he expects "clear messages coming out… that Sweden is welcome into the NATO family and that there is a high expectation that we will be a member before [the bloc's upcoming summit in] Vilnius."
Sweden and Finland renounced their neutrality and applied to join the US-led bloc last summer. Accession to NATO requires the unanimous consent of all existing members, however, and Turkish President Recey Tayyip Erdogan demanded that the two applicants lift arms embargoes on Türkiye, extradite alleged Kurdish and Gulenist terrorists, and crack down on PKK activity within their borders.
Finland and Sweden agreed to these demands in a trilateral memorandum signed last June. Ankara only deemed Finland in compliance in March after it passed stringent anti-terrorism legislation, and Sweden's application has remained on ice since, with Erdogan stating that its success "will be directly tied to the concrete steps that Sweden will take" in the "fight against terrorism."
Sweden could have avoided acceding to Erdogan's demands had the Turkish leader lost his reelection bid on Sunday. His challenger, Kemal Kilicdaroglu, promised in April to lift Erdogan's veto if he took power, but Erdogan clinched a second-round victory while his party retained its control of parliament.
With Erdogan still calling the shots, Sweden's new law will likely be put to the test soon. Presidential spokesman Fahrettin Altun stated on Tuesday that Türkiye wants Sweden to investigate and prosecute a number of people who projected the flag of the PKK onto the Swedish parliament building during the Turkish election, and to prevent PKK members from demonstrating at an anti-NATO protest next week. (RT)
Azərbaycan24 sosial şəbəkələrdə