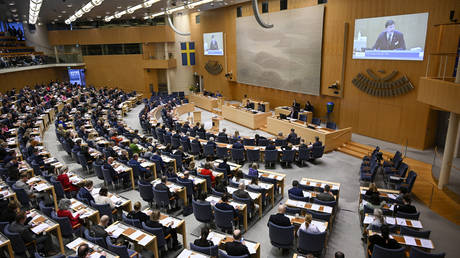 A year after applying to join the US-led military bloc, Stockholm gets parliamentary approval The Riksdag votes on Sweden's NATO membership in Stockholm, March 22, 2023. © Anders WIKLUND / TT News Agency / AFP
The Swedish parliament on Wednesday voted in favor of joining NATO, almost a year after the government in Stockholm applied for membership. The formal vote in the Riksdag was passed by 269 votes to 37, with 43 members abstaining.
"Historical decision today as the Swedish Parliament votes yes to NATO-membership," Foreign Minister Tobias Billstrom tweeted after the vote. "Sweden will be safer and more secure and we will be a security provider to the alliance."
The vote was largely a formality, since the government had made the decision to apply to the military bloc in May 2022, and NATO approved the Accession Protocols in July that year. Before Sweden can join, however, all other members have to ratify its application – which is still by no means a certainty.
Addressing the Riksdag ahead of the vote, Billstrom argued it "goes without saying that we will be able to become members by Vilnius," referring to the NATO summit in Lithuania scheduled for July.
However, that depends on whether Türkiye withdraws its objections. Among other things, Ankara says Stockholm is continuing to harbor several Kurdish "terrorists," who Sweden says are activists granted asylum. Türkiye has also demanded an apology for the symbolic burning of the Koran outside its embassy, which multiple Swedish officials have justified as an exercise of free speech.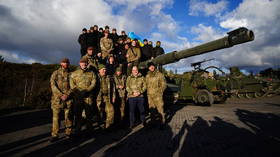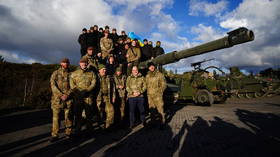 Read more
West wants Ukraine to be destroyed – Moscow
Billstrom argued that Türkiye's refusal would amount to "a questioning of NATO's open-door policy." The US had declared this notion non-negotiable in refusing Russia's comprehensive security proposal in January 2022.
Only the Left Party (Vansterpartiet) and the Greens voted in opposition to the motion. During a six-hour debate, the Greens' Jakob Risberg accused the government of wanting to "plunge Sweden into a nuclear alliance with a Turkish despot as a doorman." His colleague Hakan Svenneling argued that Ankara had used Sweden's application "to silence our voice for democracy and human rights."
The Swedish government cited the escalation of hostilities in Ukraine as justification for abandoning a policy of neutrality that has been in place since 1815. Once an imperial power in northern Europe, Sweden largely lost that status after losing the Great Northern War (1700-1721) to Russia – notably at the battle of Poltava, in present-day Ukraine – and the last time its armies fought abroad was towards the end of the Napoleonic Wars. (RT)
Azərbaycan24 sosial şəbəkələrdə