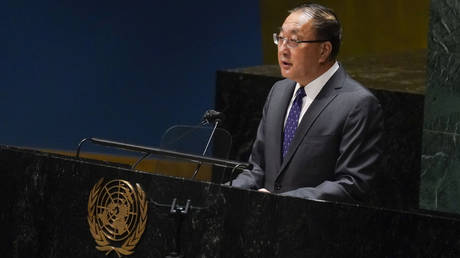 Beijing's envoy to the UN is blaming the Ukraine crisis on the US-led bloc's "constant eastward expansion" FILE PHOTO. China's Ambassador to the United Nations Zhang Jun speaks during an emergency session of the General Assembly at United Nations headquarters, Thursday, March 24, 2022. © AP Photo/Seth Wenig
The main reason for Europe's current "security plight" is NATO's insistence on pursuing absolute security and political exclusion against specific countries, China's ambassador to the United Nations Zhang Jun has claimed.
Speaking at the UN Security Council briefing on Friday, the envoy noted that the ongoing crisis in Ukraine is the result of NATO's continued expansion towards the east and urged the US-led military bloc to abandon its Cold War mentality and to stop being "a troublemaker."
He also pointed out NATO's "self-contradictory" behavior, where it promotes itself as a "defensive alliance" while at the same time constantly seeking to "breach its geographic confines and expand its agenda, stoke division and tensions, create fears and confrontations."
"Pursuing absolute security and political exclusion and containment by force against a specific party is the very crux of the reason why Europe is in the security plight," he said. "Europe, and even the whole world, will be caught up in greater turmoil" unless NATO changes its mindset, the diplomat added.
Zhang reiterated China's calls for a ceasefire between Russia and Ukraine, and urged them to start peace negotiations as soon as possible. He also suggested that the US, EU and NATO should sit down with Moscow for a "comprehensive and in-depth dialogue" based on the principle of security indivisibility.
"They should discuss how to build a balanced, effective, and sustainable security architecture and realize common security," he said, adding that it is crucial to stop any attempts to "hype up" the conflict in order to avoid further escalation and expansion.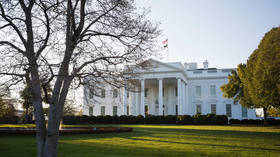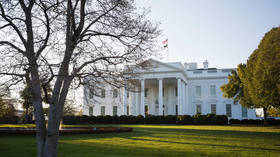 Read more
White House to hold 'secret' talks with Taiwan officials – FT
Meanwhile, Beijing has seen its own relations with the US deteriorate to new lows over the recent downing of an alleged Chinese spy balloon earlier this month. The US has announced it would be shutting down military communications with China after the incident and imposed sanctions on implicated Chinese companies and institutions.
Beijing, in turn, has denied the allegations, arguing the balloon was a civilian airship. It has nevertheless vowed retaliation over the incident and has reduced its military and diplomatic ties with the US. Beijing has also repeatedly criticized Washington for allowing a number of US officials to make repeated visits to the self-governing island of Taiwan, which China considers to be part of its sovereign territory.
As the White House has also continued to greenlight arms sales for Taipei's military, Beijing imposed sanctions on US arms manufacturers Raytheon and Lockheed Martin. (RT)
Azərbaycan24 sosial şəbəkələrdə