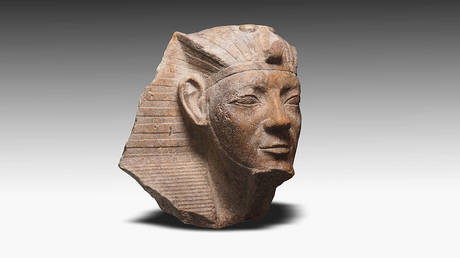 Stone fragments depicting Ramses II were discovered at a Sun temple near Cairo, the Ministry of Tourism has said © Facebook / Ministry of Tourism and Antiquities
Archaeologists have unearthed several pieces of broken statues of ancient Egyptian royalty at a temple near Cairo, including those of Pharaoh Ramses II, Egypt's most powerful and celebrated ruler, who reigned more than 3,000 years ago.
The Egyptian Ministry of Tourism and Antiquities announced the discoveries on Monday, as well as statues of Ramses IX, Horemheb, and Psamtik II, who reigned from 1126-1108 BC, 1323-1295 BC, and 595-589 BC, respectively.
The depictions were unearthed during an excavation by Egypt's Supreme Council of Antiquities and the University of Leipzig Museum in Germany at an archaeological site near the Museum for the Cultural Heritage of Heliopolis in Egypt's Matareya region.
The Egyptian team found several pieces of quartzite sarcophagi dating back to Horemheb's reign around 3,300 years ago. Another depicts King Psamtik II, who ruled from 595 to 589 BC, and is made of greywacke stone.
They also found fragments of a limestone floor and parts of another royal statue, the identity of which is unknown, but its features suggest it could be over 4,000 years old, the ministry said in a post on Facebook.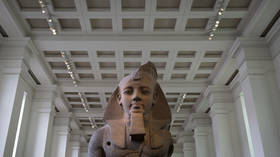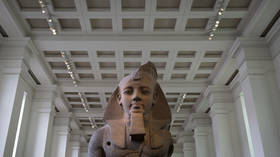 Read more
Scientists reconstruct 'handsome' face of Ramses II
The German team uncovered multiple parts of Ramses II statues with the body of a sphinx made of quartz, as well as a fragment from Ramses IX's reign. They also discovered an inscribed pink granite stone, which is most likely the upper part of an obelisk from Ramses II's reign.
"This contributes to a better understanding of the history of this area," Mostafa Waziri, the secretary general of the Supreme Council of Antiquities, said, as quoted in the statement.
The ministry also confirmed that traces of mud-brick walls and flooring dating back to the second half of the first millennium BC were discovered north of the museum, indicating "stability in this part of the temple during the Ptolemaic and Roman periods."
During Greco-Roman times, the temple was largely destroyed, and many of its obelisks were relocated to Alexandria or Europe. As Cairo developed, stones and statues from the site were looted and used as building materials, the Daily Mail reported.
Waziri added that work in the area is ongoing, and more results will be published in the coming months. (RT)
Azərbaycan24 sosial şəbəkələrdə