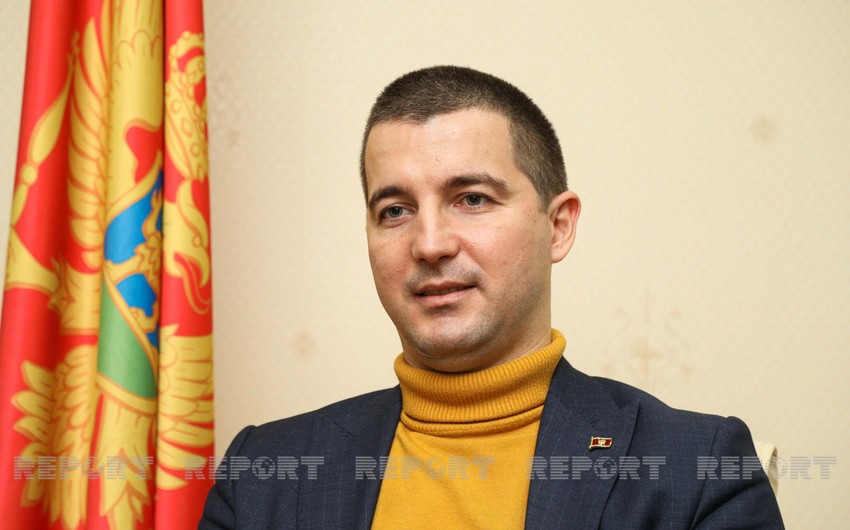 It is very important to create all the necessary preconditions for full visa liberalization between Azerbaijan and Montenegro, Speaker of the Montenegrin Parliament Aleksa Bečić told Report in an interview.
"This is necessary for both citizens to be able to travel without any obstacles," he said, noting that with full visa liberalization people to people relations between the countries will be improved.
"If we achieve this in addition to excellent relations in the highest level then we will have a long term and permanent and everlasting friendship between our two countries," noted Bečić.
He also expects that all the necessary preconditions will be established for making regional seasonal flights from Baku to Tivat and vice versa: "For our citizens this will be very beneficial to have this regular line."
He also noted that Montenegro confirmed in a very symbolic manner how much the country cares about the friendship with Azerbaijan: "Beautiful street in Podgorica is named after the capital of Azerbaijan – Baku, in addition to that one of the most beautiful parks in Podgorica is adorned by a monument to your famous writer and poet Huseyn Javid. That's why I would like to use this opportunity to invite all your citizens to visit Montenegro, having in mind that we abolished visas for all your citizens."
According to him, one of the main messages of his visit to Azerbaijan was the opening of direct and regular flights, as well as the complete liberalization of the visa regime.
Talking about the impact of COVID-19 on the tourism sector, Bečić said that in 2020 Montenegro experienced the clash of its tourism, but unlike that year in 2021, the country was able to achieve the results similar to the ones of 2019, which was the record year when it comes to tourism outcomes.
The speaker noted that the key is to find the balance between the economy and epidemiology because this is the only way to find the proper measure and to make the necessary guarantee for the sustainability of the country. The countries have to learn to live with the pandemic and make a balance between the economy and epidemiology: "We have to develop our tourism even in such circumstances."