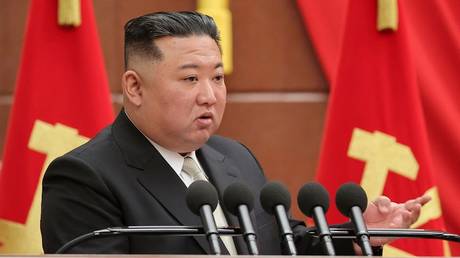 The North Korean leader reportedly weighs 140kg and suffers from insomnia Kim Jong-un attends a plenary meeting of the Workers' Party of Korea (WPK) in Pyongyang, North Korea, March 1, 2023 © AFP / KCNA
North Korean leader Kim Jong-un weighs 140kg and suffers from insomnia, dermatitis, and nicotine addiction, South Korea's top intelligence chief claimed on Wednesday. With little information crossing the border, Kim's health is a topic of gossip and speculation in the south.
National Intelligence Service (NIS) Director Kim Kyou-hyun told a parliamentary committee that based on medications purchased abroad for North Korean officials, "Chairman Kim is suffering from significant sleep disorders," lawmaker Yoo Sang-bum of the ruling People Power Party told the Yonhap News Agency after the closed-door briefing.
The NIC chief also stated that Kim is growing increasingly dependent on alcohol and nicotine, and "looked very tired with noticeable dark circles under his eyes" during a public appearance this month, Yoo said. He added that the NIS has observed "scratches and bruises" on Kim's arms since late last year, which the agency suspects are "a combination of allergies and stress-induced dermatitis."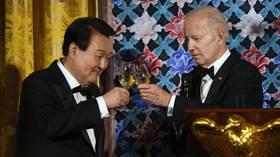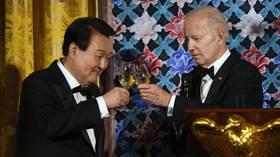 Read more
Kim's sister calls Biden 'old man with no future'
Analysis of recent photos suggests that Kim weighs 140 kilograms, Yoo noted. At Kim's height, this estimate makes him obese on the Body Mass Index (BMI) scale.
Pyongyang rarely issues official statements on Kim's health, and apart from speculation and hearsay in the South Korean and international media, reports from the NIS are some of the only sources of information on his well-being.
Kim disappeared from public life for several weeks in 2020, 2021, and again at the beginning of this year, each time leading to a flurry of news reports about his possible demise.
The truth is often more mundane. When Kim emerged from a brief public hiatus in 2021 having visibly lost weight, North Korean state media said that he had been dieting "for the sake of the nation," and the NIS concluded that he was suffering from no health issues.
In the Western media, reports of foreign adversaries' ill health are often published for their implicit propaganda value. Several British outlets have claimed since last year that Russian President Vladimir Putin is undergoing treatment for cancer, with the reports usually attributed to Ukrainian sources. Kremlin spokesman Dmitry Peskov dismissed the articles as "a hoax," and CIA Director William Burns admitted last summer that the Russian leader is "entirely too healthy" for Washington's liking. (RT)
Azərbaycan24 sosial şəbəkələrdə