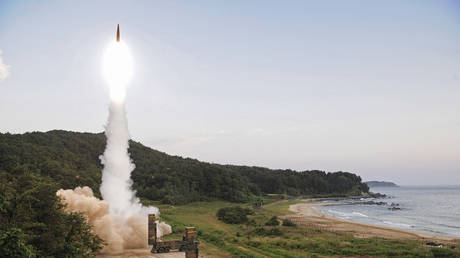 A ballistic missile, named Hyunmoo-5, will be launched on Friday according to Yonhap news agency South Korea's Hyunmoo II ballistic missile. © South Korea Defense Ministry via AP
South Korea is planning to test-launch a new "high-power" ballistic missile later this week, Yonhap news agency reported on Wednesday. The rocket, named Hyunmoo-5, is meant to act as deterrence against North Korea's nuclear and missile programs, it said.
The news agency cited an "informed source" as saying the test-firing of the missile would take place on Friday, some 150 kilometers southwest of the capital, Seoul.
As proof, Yonhap cited a navigational warning issued for Friday and Saturday, said to cover 300 kilometers.
According to the report, the rocket is believed to have a range of at least 3,000 kilometers – a distance typical of an intermediate-range missile. However, the exact figure has not been disclosed by the Korean military.
If the Hyunmoo-5 enters service, it is expected to become a key component of the Korea Massive Punishment and Retaliation (KMPR) plan, which envisages an incapacitating strike on the North Korean leadership, should a military conflict break out between the two states, Yonhap claimed.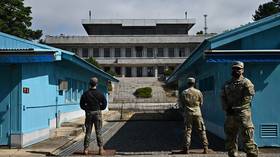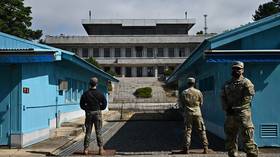 On Tuesday, the news agency published an editorial by US Defense Secretary Lloyd Austin, in which he reaffirmed America's "ironclad" commitment to providing security to its key ally in Asia.
Austin, who is in South Korea on his third official visit since the start of his tenure, accused Pyongyang of increasingly "destabilizing" behavior in the region. This, the defense secretary argued, made it all the more important for the US, South Korea and Japan to "remain vigilant."
According to Austin, it is only thanks to a massive US military presence on the peninsula that peace has been preserved there for seven decades. He revealed that Washington and Seoul are "expanding the scope and scale of our combined exercises" in order to "increase our interoperability and readiness to 'Fight Tonight' if necessary."
Addressing "adversaries and competitors" in the region, Austin warned that "if they challenge one of us, they are challenging the… alliance as a whole."
During 2022, North Korea conducted a record number of missile launches, including several ballistic tests, calling them a response to regular US-South Korea wargames on the peninsula, which the North views as a threat to its own security. (RT)
Azərbaycan24 sosial şəbəkələrdə