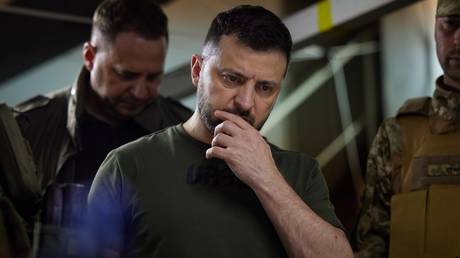 Their counter-proposal also "deleted everything about Ukraine" from the EU declaration FILE PHOTO: Ukrainian President Vladimir Zelensky © Ukrainian Presidency / Handout/Anadolu Agency via Getty Images
The Community of Latin American and Caribbean States (CELAC) has purged every reference to Ukraine from the joint declaration proposed by the EU, the outlet Euractiv reported on Thursday. Their objections also forced the EU to un-invite Ukrainian President Vladimir Zelensky from the joint summit.
The 33-member South American bloc is supposed to hold a joint summit with the EU in Brussels, starting on July 17. Spain had initially invited Zelensky to attend, but the invitation was "dropped" after "pushback" from CELAC leaders, Euractiv reported.
Ahead of the meeting, the EU sent over a draft of a joint declaration, which included support for Ukraine, climate change and green energy pledges, combating corruption, and other major EU policy goals. On Tuesday, the CELAC sent back a 21-page counter-proposal, which "deleted everything about Ukraine," one EU diplomat told Euractiv.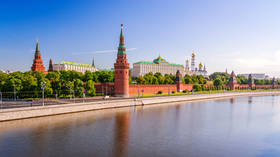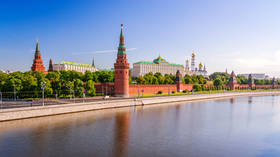 Read more
Kiev dragging other countries into conflict – Moscow
The counter-proposal says the EU and CELAC would "advocate for serious and constructive diplomatic solutions to the current conflict in Europe, by peaceful means, which guarantees the sovereignty and security of us all, as well as regional and international peace, stability and security," according to Euractiv.
The EU regards it as "crucial" that the declaration condemns "Russia's war of aggression against Ukraine" and contains specific language about the UN Charter, sovereignty and territorial integrity, said one unnamed diplomat. Brussels also wanted an explicit commitment to Zelensky's "peace platform," which the CELAC has rejected.
Most Latin American countries have repeatedly said they don't wish to be dragged into a conflict they see as a primarily European problem. One CELAC diplomat told Euractiv that the summit needs to be about more than the Ukraine conflict, and address things that matter to the region, including a stalled trade pact between the EU and Mercosur members Argentina, Brazil, Paraguay, and Uruguay. The CELAC has also asked Europeans to pay reparations for the damages caused by slavery.
One EU diplomat told Euractiv that the counter-proposal shows "we are not on the same wavelength" and that "it looks like they want to be perceived as equal partners."
EU ministers are scheduled to discuss the counter-proposal at a meeting on Friday, and will have to decide how much they are willing to compromise, or if they will press ahead with the summit without a joint communique. (RT)
Azərbaycan24 sosial şəbəkələrdə