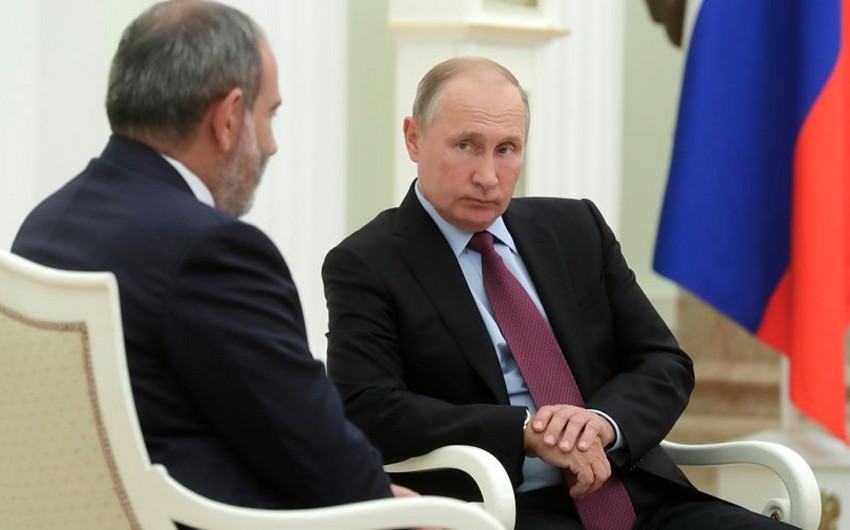 The meetings of heads of state can provide an insight into the agendas of some of them, despite attempts to hide them behind false statements.
Armenian Prime Minister Nikol Pashinyan is trying to position himself as a politician maneuvering between the West and Russia, but how true is this?
Until April 2018, when Pashinyan and his team came to power, they took an openly anti-Russian position. Later he tried to disguise this, but his team did not change their strategy and continued to work in the same way.
Proofs of fading trust between Yerevan and Moscow include the anti-Russian rally in Yerevan in early November, the dismissal of the former defense minister who has a Russian passport, Artashak Karapetyan, the accusation of Russia of 'betraying the Armenians' voiced by Andranik Kocharyan, chairman of the Armenian parliamentary commission on defense and security, who is considered one of Pashinyan's ardent supporters.
Therefore, on November 26, at a trilateral meeting of Azerbaijani President Ilham Aliyev, Russian President Vladimir Putin and Armenian Prime Minister Nikol Pashinyan, Moscow didn't believe in Pashinyan's tears.
Moscow is undoubtedly aware of the telephone call of the head of the Armenian government to the head of the European Council Charles Michel in an attempt to involve the West in resolving issues in the South Caucasus.
Russia perceived these and previous statements and behavior of Pashinyan as disrespect for itself, therefore, before the meeting in Brussels, a meeting was held in Sochi. Russia didn't forget that the meeting scheduled for November 9 was disrupted because of Armenia, either.
Russia cannot stay indifferent to US President Joe Biden's invitation of the Armenian prime minister to the videoconference 'Summit for Democracy.' Thus, the White House sends a message to the Kremlin: "Armenia is mine." It is safe to assume that Pashinyan assumed some commitments before the West. Otherwise, how can one assess the fact that Armenia has received an invitation, although the level of development of democracy there doesn't at all correspond to this?
In general, Pashinyan's opposition activities, his approach after coming to power, in particular, his recent behavior can be regarded as disrespect for Russian President Vladimir Putin, who mediates in solving problems between Azerbaijan and Armenia. In addition, Biden's invitation to Pashinyan is considered a step against the Eurasian Economic Union, the Collective Security Treaty Organization, of which Armenia is a member. It can be assumed that the US president, under the pretext of democracy, is creating an anti-Russian coalition.
In fact, the naming of Russia as his country's closest ally at the Sochi meeting can be considered some kind of Pashinyan's remorse to Putin. That is why his rhetoric was fundamentally different from his speech at a press conference on November 23. The head of the Armenian government spoke in Sochi in connection with the restoration of transport links, the establishment of economic ties and cooperation. With his Sochi statement, Pashinyan crossed out the statements made in his own country.
Apparently, it was no coincidence that the Russian president received him separately after a trilateral meeting. Probably, this meeting was more related to tensions in relations between Russia and Armenia.
The Armenian prime minister and his patrons are trying to implement their presence in the South Caucasus through the OSCE Minsk Group. Their 30-year inaction in connection with the liberation of the occupied Azerbaijani lands proves this. Now these international mediators are trying, through such a 'Trojan Horse' as Armenia, to invade the South Caucasus again and create a new conflict.