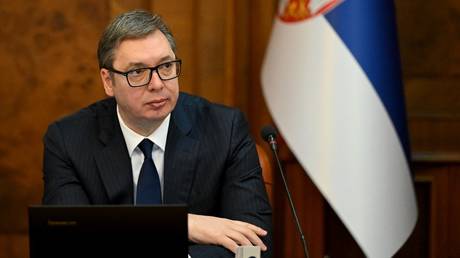 Aleksandar Vucic will stay on as head of state, with his defense minister taking over the helm of the Serbian Progressive Party Aleksandar Vucic attends a Serbian government cabinet meeting in Belgrade, Serbia, January 23, 2023 © AFP / Andrekj Isakovic
President Aleksandar Vucic has stepped down as leader of the ruling Serbian Progressive Party (SNS) after 11 years in charge, with Defense Minister Milos Vucevic set to take the position. Vucic, who will stay in office as president, announced his decision amid anti-government protests in Belgrade and clashes in Kosovo.
SNS delegates accepted Vucic's resignation at a party conference in the city of Kragujevac on Saturday, electing Vucevic as his successor immediately afterwards.
Vucic assumed leadership of the SNS in 2012, taking over from Tomislav Nikolic. Vucic and Nikolic founded the party in 2008 after splitting with the nationalist Serbian Radical Party.
"I will never leave this party, I am proud to have led the best party all these years," Vucic told attendees, boasting of the SNS' popular support even amid "the hybrid war that is being waged against our country."
Vucic said that he will remain in office as president, and that the SNS will join a wider political movement which will be launched next month.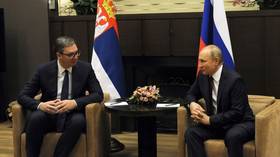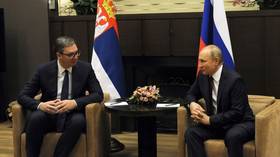 Read more
Choose us or Russia, EU tells Serbia
Vucic has faced large-scale protests in recent weeks, with demonstrators calling for his resignation and that of his top security officials after two mass shootings earlier this month. Vucic said last week that he had been tipped off to the presence of Western-sponsored activists at rallies in Belgrade, accusing them of plotting a "color revolution" against his government.
Meanwhile, Vucic announced on Friday that he had placed the Serbian armed forces on high alert following clashes between police and protesters in a majority-Serb town in the breakaway province of Kosovo earlier that day. The unrest broke out after the election of an ethnic Albanian mayor in a vote boycotted by the town's Serb residents.
Around a dozen people were injured after police from Pristina fired stun grenades and tear gas at the protesting Serbs, local media reported.
Throughout his presidency, Vucic has sought to maintain ties to the US and EU on one hand, and Russia and China on the other. This has become a difficult position for Vucic, with EU leaders explicitly stating that Belgrade's failure to sanction Moscow over the conflict in Ukraine harms Serbia's chances of joining the European bloc.
When Western politicians visit Belgrade, he said earlier this month, their "first obligation is to explain to me that I am a jerk who did not introduce sanctions." Vucic has repeatedly stated that he will not sanction Russia except in "circumstances where there is no way out." (RT)
Azərbaycan24 sosial şəbəkələrdə