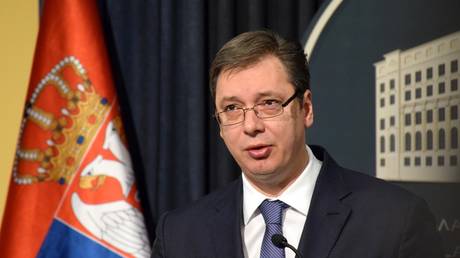 The decision to supply Kiev with battle tanks has only further united Russians, Aleksandar Vucic has said Aleksandar Vucic © Nihad Ibrahimkadic / Anadolu Agency / Getty Images
The West's recent announcement that it would be supplying Ukraine with main battle tanks marks a major miscalculation, Serbian president Aleksandar Vucic said on Friday. That's as Moscow has threatened to burn any Western equipment that enters Ukraine and has vowed to retaliate "far beyond the scope of armored vehicles."
Vucic noted that the decision to supply Ukraine with tanks, especially with the "terrifying" German Leopard 2s, is the West's "biggest" political mistake because it effectively manages to "unite the Russians like never before."
Last month, Germany and the US agreed to provide a number of heavy tanks to Kiev. Washington has promised between 30 and 50 of its M1 Abrams tanks, while Berlin pledged 14 Leopard 2A6s from the Bunderswehr's own stocks. An additional 51 of the same model and 88 of the older Leopard 1 model may also come from Rheinmetall as they get refurbished, Germany said.
Berlin also gave the green light to countries that have expressed a desire to export their own Leopards to Ukraine. Those include Poland, Finland, Spain, Norway and the Netherlands. The UK and Canada have also said they would be sending their heavy equipment to Kiev.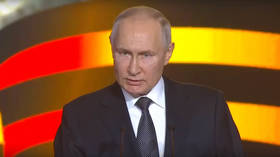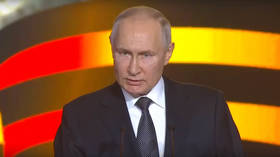 The decision has been heavily criticized by Russia, which has called it an "extremely dangerous" move that threatens to escalate the conflict in Ukraine. On Thursday, Russian President Vladimir Putin likened the new threat of "German Leopard tanks with crosses on their hulls" to the Soviet Union's struggle against Hitler's forces and warned that Moscow's response would not be limited to weapons.
Other countries have also voiced their concerns about the West's move. Turkish President Recep Tayyip Erdogan said that the delivery of NATO tanks to Ukraine was a "high-risk endeavor" that would fail to help end the conflict and only "line the pockets of gun barons."
Hungarian Prime Minister Viktor Orban also slammed Germany's decision, noting that these Western countries are "drifting" towards becoming active participants in the conflict. Orban has insisted that instead of arming Kiev, the West should be pursuing "a ceasefire and peace talks" in Ukraine.
Moscow has repeatedly objected to Western weapon deliveries to Ukraine, arguing that non-stop arms shipments only serve to prolong the conflict and risk direct confrontation with NATO. The Kremlin has also insisted that no amount of military aid will prevent Moscow from reaching its objectives and warned that the tanks would "burn like the rest of Western weapons" supplied to Kiev. (RT)
Azərbaycan24 sosial şəbəkələrdə