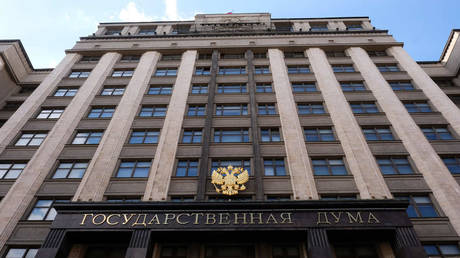 Thirteen new interparliamentary friendship groups between Russia and African countries are established at the State Duma FILE PHOTO: The Russian State Duma building on Moscow's Okhotny Ryad Street on May 13, 2018. © Natalia Seliverstova / Sputnik
The number of interparliamentary "friendship groups" with African countries within the Russian parliament will grow from two to 15, the deputy speaker of the State Duma, Sholban Kara-ool, has told RIA Novosti.
This year has seen the consolidation of Russia-Africa relations, with the representatives of 49 African countries having visited Russia, he said.
"When the Duma met the delegations, we distributed them among the deputies and our communication went on in a spirit of complete mutual understanding and support. That's why Russian and African members of parliaments came up with an initiative to set up such groups", Kara-ool, who personally took on the Cameroon group, explained.
Before there were only two of them – the group connecting Central and Southern Africa parliaments, as well as the one for South Africa.
The Egypt friendship group will be led by Olga Kazakova, the head of the Duma education committee, and the one for Gabon by Maxim Topilin, the head of economic policy committee, while the group linking Russia to Djibouti will be led by Yaroslav Nilov, the head of the social policy committee.
Speaking at the Second Russia-Africa Summit held in St. Petersburg in July, Russian president Vladimir Putin defined areas for cooperation between African countries and Russia: to redirect the logistics routes in favor of the Global South, to set up an industrial zone in Egypt, to develop energy projects and to work on direct air connections. The president also cited the opening of local branches of the biggest Russian universities and schools, which, among other subjects, would teach the Russian language. (RT)
Azərbaycan24 sosial şəbəkələrdə