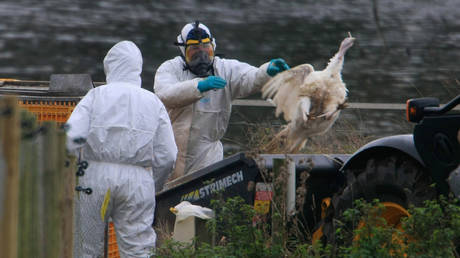 The virus has spilled over to mammals across the world and could potentially transfer to humans, researchers claim FILE PHOTO: DEFRA workers clear up dead turkey carcasses at Redgrave Park Farm where around 2,600 birds are being slaughtered following the confirmed outbreak of the H5 strain of bird flu in Redgrave, Suffolk, near Diss, Norfolk, England. © Jamie McDonald / Getty Images
Health officials from Europe and the US are calling for international action to tackle the spread of avian influenza as fears grow that the virus could mutate and spread among humans. A number of mammals have been found to be carrying a mutated version of the pathogen amid the largest ever outbreak of bird flu.
The H5N1 virus has already killed some 208 million birds around the world. But the latest figures show there have also been at least 200 recorded cases of mammals contracting the disease.
In the UK, the Animal and Plant Health Agency (APHA) reportedly found nine otters and foxes that tested positive for the highly pathogenic H5N1 virus. In the US, the disease was found in skunks, bears, a raccoon and a red fox. In France, the virus had spread to a cat and also caused an outbreak on a Spanish mink farm. The bird flu has also been detected in seals and dolphins.
Researchers believe these animals contracted the virus by feeding on dead or sick birds that had been infected with the disease. It's noted that the virus found in these animals showed signs of a mutation that allowed it to infect mammals more easily. However, scientists say they have not yet seen any evidence to suggest the virus is capable of jumping between mammals.
Nevertheless, public health officials are now warning that the virus could continue mutating and gain that ability, and even learn to jump to humans. They have noted, however, that the risk to the public is "very low."
Speaking to the BBC, Professor Ian Brown, head of APHA's scientific services, stated that "the virus is absolutely on the march" and called for greater international action to tackle its spread. He admitted that the current outbreak carries the risk of potentially turning into a pandemic like Covid-19.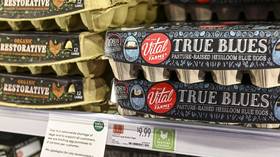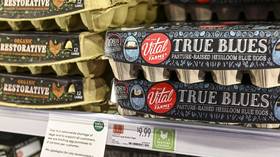 Read more
US cracking down on egg-smuggling
"This global spread is a concern. We do need globally to look at new strategies, those international partnerships, to get on top of this disease. If we don't solve the problem across the globe, we're going to continue to have that risk," he said.
According to the World Health Organization (WHO), there have been some 830 cases of human infection with the avian influenza H5N1 virus in the past 20 years, 457 of which were fatal. The last five cases were confirmed during this latest outbreak, which is believed to have begun in October 2021.
UK health officials have urged the public not to touch any dead or sick birds. People are also asked to report any dead birds of prey, three or more dead wild waterfowl or gulls, or five or more dead birds of any species that they find to the Department for Environment, Food and Rural Affairs. (RT)
Azərbaycan24 sosial şəbəkələrdə