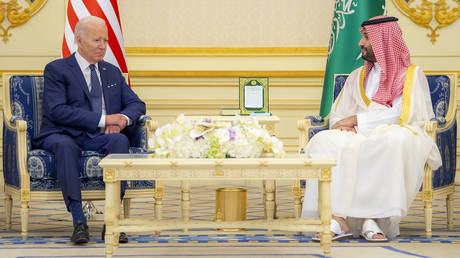 Mohammed bin Salman privately pledged to retaliate in a row over oil production cuts, leaked documents reportedly show FILE PHOTO: US President Joe Biden (L) meets Saudi Arabian Crown Prince Mohammed bin Salman (R). © Royal Court of Saudi Arabia / Anadolu Agency via Getty Images
Crown Prince Mohammed bin Salman privately threatened to harm the American economy after President Joe Biden warned Saudi Arabia of "consequences" for agreeing an oil production cut with Russia, the Washington Post reported, citing leaked material.
The Biden administration had said it would re-evaluate relations with the kingdom following a decision by Riyadh to slash crude production against the wishes of the US.
The Crown Prince, who is widely referred to as MBS, warned that he would not deal with the US administration anymore if Biden penalized Saudi Arabia. He also promised "major economic consequences for Washington," the Post reported on Thursday.
The threat was contained in a classified document that was leaked on a Discord server, but it was not clear whether the remark was part of intercepted communications or a message sent privately to the US.
Biden made his dissatisfaction with Riyadh clear last October after the OPEC+ group of major oil producers including Russia agreed to cut production by two million barrels a day. Washington was working to punish Moscow with sanctions on its oil trade over the conflict in Ukraine.
"There's going to be some consequences for what they've done with Russia," the US president said in an interview with CNN at the time, without specifying any possible measures.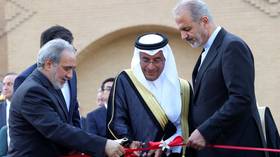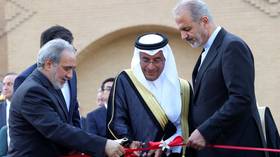 Read more
Iran officially reopens embassy in Saudi Arabia
On the campaign trail before his election, Biden vowed to make Saudi Arabia a "pariah" over the Crown Prince's alleged role in the 2018 murder of Washington Post columnist Jamal Khashoggi, which Riyadh blamed on rogue agents.
This threat never materialized, with White House insiders indicating that the Biden administration had opted against jeopardizing bilateral relations. Under a decades-old arrangement, the US provides security to Saudi Arabia, and in exchange retains access to its oil, which the kingdom trades for dollars, propping it up as a global currency.
A number of top US officials recently traveled to Saudi Arabia, including Secretary of State Antony Blinken. These relations contrast with the reportedly poor personal chemistry between Biden and MBS, who have not met since last July.
The 37-year-old Saudi Crown Prince, who is responsible for the day-to-day affairs of the kingdom in lieu of his father, King Salman, reportedly mocks Biden in private, making fun of his gaffes and mental lapses. Critics of the US president have accused him of caving in to Saudi pressure. (RT)
Azərbaycan24 sosial şəbəkələrdə