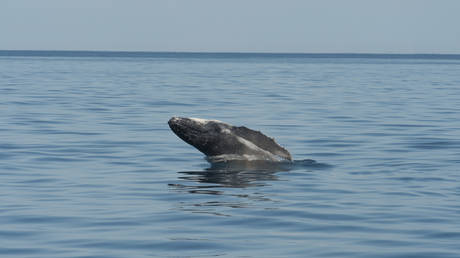 About 1,200 collisions between whales and vessels have been recorded since 2007 Whale watching with Freedom Whale Watch & Charters at Hervey Bay, Queensland. Australia © Getty Images / Paolo Picciotto/REDA&CO/Universal Images Group via Getty Images
A crew of four sailors have been recounting the sinking of their boat and subsequent rescue after it was struck by a whale earlier this month while they were on a three-week voyage in the Pacific Ocean, according to a report by the Washington Post.
Florida native Rick Rodriguez and three others were 13 days into what was expected to be a 21-day crossing between the Galapagos Islands and French Polynesia when, while they were having lunch on March 13, the sailors felt a thunderous impact towards the rear of their boat.
"The second pizza had just come out of the oven," Rodriguez, a ten-year veteran of working as a professional yacht captain, told the Washington Post, when "the back half of the boat lifted violently upward and to starboard."
The source of the impact was quickly noted: a whale, which one of Rodriguez's companions estimated to be roughly the same length as their boat. Within seconds of the collision, an alarm notified Rodriguez that the bottom of the boat was filling with water. He issued a distress signal and engaged an emergency locator beacon, the report says.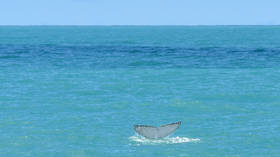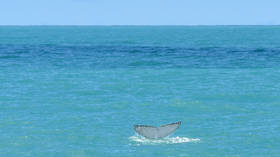 Read more
Five dead in 'whale attack'
The sinking of the boat, a 1976-era yacht called 'Raindancer', took just 15 minutes according to the crew's testimony. The circumstances of the sinking, Rodriguez recounted to the Washington Post, were not lost on him. It occurred in roughly the same waters as the sinking of the whaling ship Essex, in 1820 after it was attacked by an abnormally large sperm whale.
That incident – during which survivors were stranded at sea for several weeks and resorted to cannibalism – provided the basis for Herman Melville's classic 1851 novel Moby Dick.
Rodriguez and his party avoided a similar fate. He was able to provide detailed information on his crew's location to a fellow sailor, a family member and the US Coast Guard, via officials in Peru, after they transferred themselves and limited supplies to a lifeboat. They were rescued by a civilian boat after drifting in the Pacific currents for around ten hours.
"I feel very lucky, and grateful, that we were rescued so quickly," Rodriguez told the Washington Post of the ordeal. "We were in the right place at the right time to go down."
There have been around 1,200 documented cases of whales striking boats since data was first collected in 2007, a spokesperson for the International Whaling Commission told the Washington Post. The last such instance which required a rescue was in 2009 when a 40-foot boat sank off the coast of California after being struck by a whale. Her crew were rescued by a US Coast Guard helicopter. (RT)
Azərbaycan24 sosial şəbəkələrdə