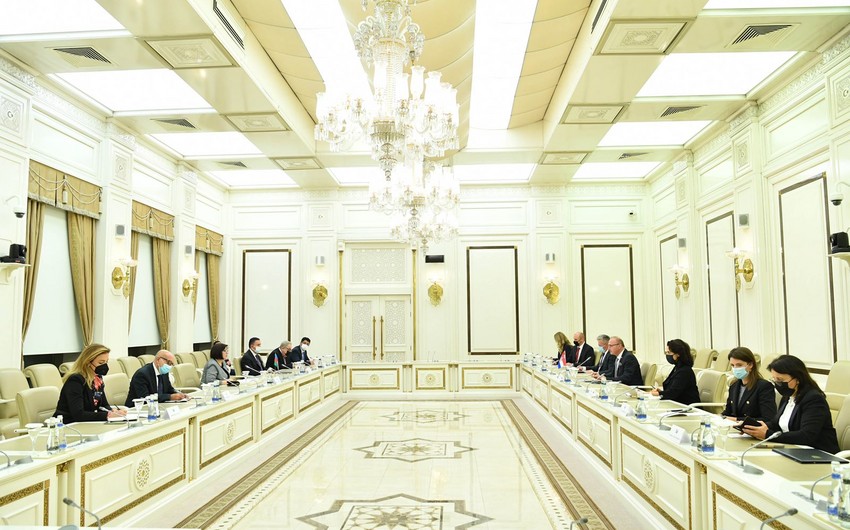 Speaker of the Azerbaijani Parliament Sahiba Gafarova met with a Croatian delegation led by Foreign and European Affairs Minister Gordan Grlić.
Welcoming the guests, the speaker said that Azerbaijan attaches great importance to developing relations with Croatia.
The mutual visits and meetings of the heads of state are essential in raising relations between two countries to the current high level. The talks held during these meetings and the signed documents laid reasonable grounds for the development of our links on solid foundations.
Gafarova said that the high-level political dialogue between our countries has a positive impact on economic relations too. She added that Azerbaijan had made an outstanding contribution to Europe's energy security and transport projects implemented in the region open new opportunities for the use of this infrastructure and transit opportunities. During the conversation, the speaker stressed the role of parliaments in the system of interstate relations and praised the activities of friendship groups in the legislatures of the two countries.
Sahiba Gafarova said that the brave Azerbaijani Army under the leadership of Supreme Commander-in-Chief Ilham Aliyev liberated the lands kept under occupation by Armenia for 30 years and managed to restore its territorial integrity. Thus, our country has fulfilled the requirements of four UN Security Council resolutions on the Karabakh conflict. The speaker said that all cities and settlements in our lands were destroyed during the 30-year occupation. Today, restoration and construction work is underway in these areas. Armenia does not give up provocations, tries to hinder the process of delimitation of borders, refuses to provide maps of mined areas.
The Minister of Foreign and European Affairs of the Republic of Croatia Gordon Grlić expressed gratitude for the cordial meeting. According to him, Croatia is interested in deepening relations with Azerbaijan: "Our connections in the political, economic, cultural, and humanitarian spheres are expanding. Further deepening of the cooperation at the parliamentary level, regular mutual visits, and meetings of MPs serve common goals. Croatia rejoices in Azerbaijan's achievements. Today, the two countries have ample opportunities for cooperation not only in the energy sector but also in agriculture, tourism, and high technology."
Konul Nurullayeva, head of the working group on interparliamentary relations with Croatia, and Tahir Mirkishili, chairman of the parliamentary committee, shared their views on cooperation between the two countries.
The meeting was attended by Office Head of the Parliament Safa Mirzeyev, Azerbaijani Ambassador to Croatia Fakhraddin Gurbanov, Croatian Ambassador to Azerbaijan Branko Zebić, and other officials.