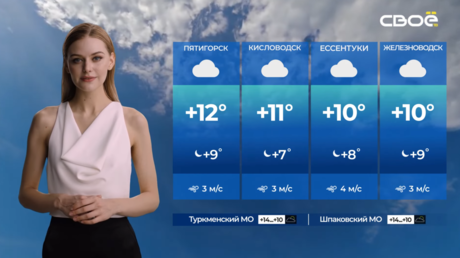 Several neural networks have reportedly been used to create the virtual weatherwoman © YouTube
A local TV broadcaster in Russia's southern Stavropol Region has unveiled an artificial weather presenter, which has been created with the help of several neural networks.
Svoye TV premiered its new program, dubbed 'Future Forecast', on Tuesday. The channel said it was controlled by neural networks, with "one responsible for the virtual presenter, another for preparing the text, and the third for generating graphic content."
The new program is set to go on air five times a day, and is hosted by an AI presenter named Snezhana Tumanova (a wordplay on 'snow' and 'fog' in Russian).
"She is ambitious and seeks to completely replace human competitors. At the same time, the management of the TV channel does not intend to abandon the classic version of the forecast with a living person yet," the channel noted.
Artificial TV presenters have been in use for several years already, with China launching an 'English AI Anchor' at the state-run Xinhua News Agency back in 2018. Multiple outlets have since followed suit. Last week, China's leading newspaper, the People's Daily, unveiled an AI presenter named 'Ren Xiaorong' that is set to broadcast the news 24 hours a day. (RT)
Azərbaycan24 sosial şəbəkələrdə