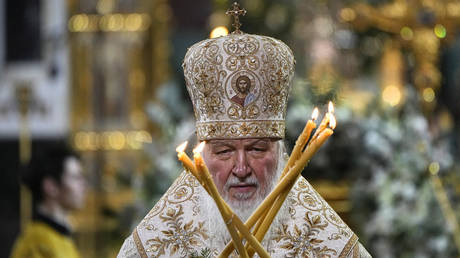 Some "madmen" believe Russia could be defeated, but this could trigger the end of the world, Patriarch Kirill said Russian Patriarch Kirill leads a Christmas mass at the Cathedral of Christ the Saviour in Moscow on January 6, 2023. © Alexander Zemlianichenko / POOL / AFP
Any attempts to destroy Russia could spell disaster for the entire world, the head of the Russian Orthodox Church, Patriarch Kirill, warned on Thursday.
Speaking after a religious service marking the Orthodox Christian holiday of Epiphany, the primate claimed that both the international community and Russia are facing "very huge threats."
According to Patriarch Kirill, the root of the problem is that some "madmen" believe that Russia, which "has powerful weapons and is populated by extremely strong people… who had never given in to an enemy and had always emerged victorious, could be defeated under the current circumstances."
Neither would it be possible to "impose on them certain values that cannot even be called values, so that they would be like everyone else and obey those who have the power to control most of the world," he noted.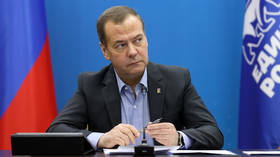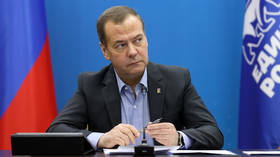 Read more
Ex-Russian president warns of nuclear scenario in Ukraine
"We pray to the Lord so that he enlightens those madmen and helps them understand that any desire to destroy Russia will mean the end of the world," he added.
The Patriarch's remarks echo a statement by former Russian president Dmitry Medvedev on Thursday, who warned the countries that want to see Moscow defeated in Ukraine that nuclear powers such as Russia had "never lost a major conflict on which their fate depended." Should such a nation lose a conventional war, such an outcome could trigger a nuclear conflict, he added.
Earlier this month, the head of the Russian Church appealed to both Moscow and Kiev's forces to establish a truce in the run-up to and during Orthodox Christmas on January 7 to give the faithful a chance to attend religious services.
Hours later, the proposal was supported by Russian President Vladimir Putin, who ordered Moscow's troops to stand down for 36 hours. The ceasefire, however, was rejected by Kiev, with Ukrainian officials dismissing the offer as "hypocrisy" and a military ruse. (RT)
Azərbaycan24 sosial şəbəkələrdə