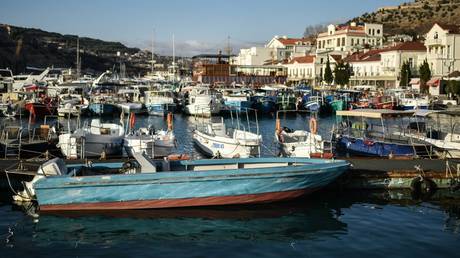 Statements from "sick people" can't be taken seriously, the governor of Sevastopol has stated Boats moored to the pier are seen in Balaclava Bay in Sevastopol, Russia. © Sputnik / Konstantin Mihalchevskiy
The idea of renaming Sevastopol as part of Kiev's plan to retake Crimea from Russia should not be taken seriously, the governor of the port city, Mikhail Razvozhaev told TASS news agency on Sunday.
Earlier in the day, Aleksey Danilov, the secretary of Ukraine's National Security and Defense Council, took to Facebook to post what he called "12 steps for the de-occupation of Crimea."
One of the proposed steps was to rename Sevastopol – first simply to "Installation No.6" and then to Akhtiar, after a small settlement that used to exist in the area. The re-branding would be necessary to "break the historic perception [of Sevastopol] as a city of Russian military glory," the Kiev official stated.
Danilov also suggested that if the peninsula became Ukrainian again the Crimean Bridge connecting it to mainland Russia would be destroyed, while the local population would undergo so-called "lustration," or a vetting process to determine who would lose their political rights over ties to the Russian state.
Reacting to Danilov's plan, Razvozhaev said that "the news from Ukrainian politicians is more like entries in the medical record from Ward No.6." He was likely referring to the 1892 short story 'Ward No. 6' by iconic Russian author Anton Chekhov, which depicts events at a provincial mental asylum.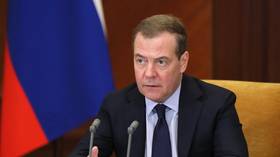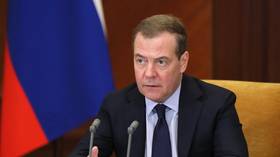 "One can't take statements and comments of sick people seriously. They need to be treated, which is what our military is doing right now," the Sevastopol governor pointed out as cited by TASS news agency.
Sevastopol, in the south of the Crimean peninsula, serves as the headquarters of the Russian Black Sea Fleet. It is one of three federal cities under Russian law, together with Moscow and St Petersburg.
The name Sevastopol, which was given to the city when it was founded by the Russian Empire in 1783, is composed of Greek words "sebastos," which means "venerable," and "polis," which means "city."
For months, Ukraine has been mulling a major counteroffensive aimed at restoring control over all territories lost to Russia, including Crimea.
Former Russian president and current deputy head of the country's Security Council, Dmitry Medvedev, said earlier this week that the claims by Ukrainian officials were just "propaganda" and shouldn't be treated seriously.
However, Medvedev warned that if the peninsula, which reunited with Russia as a result of a referendum in 2014, is actually attacked, it could become "the basis for the use of all means of protection, including those provided for by the fundamentals of the Doctrine of Nuclear Deterrence." (RT)
Azərbaycan24 sosial şəbəkələrdə