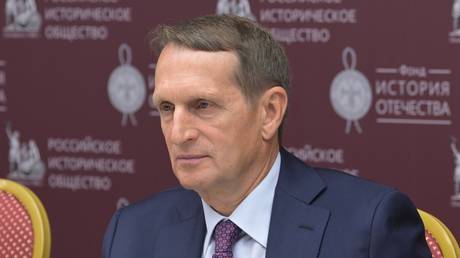 Washington remains Moscow's "most dangerous and uncompromising" adversary, Sergey Naryshkin has said FILE PHOTO: The head of the Russian Foreign Intelligence Service (SVR), Sergey Naryshkin © Sputnik / Aleksey Nikolsky
The Russian Foreign Intelligence Service (SVR) maintains contacts with the CIA, its head, Sergey Naryshkin, told the Russian 'National Defense' magazine last week. Such communication helps reduce unnecessary tensions even though uncertainty is growing over the outcome of the geopolitical standoff between Russia and the West, he said.
"Consultations between the SVR and the CIA are of a rare but regular nature," Naryshkin said, when asked if a direct communication link between the two intelligence services still exists and whether it could be "used again."
"Professional dialogue in itself is useful, particularly for reducing international tensions and… misunderstandings between nations," the Russian spy chief added, without revealing how often the two services communicate.
It is known that Naryshkin spoke to his US counterpart, William Burns, face-to-face in November 2022. At that time, the two intel chiefs met in the Turkish capital of Ankara. The White House said the discussion focused on the consequences of a potential use of nuclear weapons. Burns was "not discussing settlement of the war in Ukraine," a White House official emphasized at the time.
Back in February, Burns described the discussions he had with Russian officials as "dispiriting" and accused the Russian spy chief of having a "very defiant attitude," with a "sense of cockiness and hubris."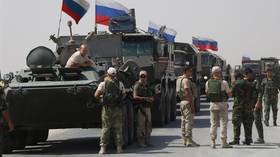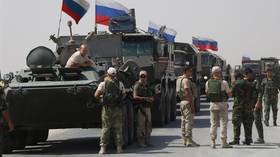 Read more
Russia and US narrowly avoided major conflict in Syria – Telegraph
In his interview with the 'National Defense' magazine, Naryshkin said he merely explained Russia's geopolitical interests in Ukraine to his US counterpart. "Nothing that would go beyond that was said on my part," he added. The SVR chief said that Burns might have perceived Russia's determination to achieve the goals of its military campaign in Ukraine as "defiant."
US officials still "fail to avoid using ideological cliches" even in "businesslike talks," the top spy said. He also admitted that Russia still considers the US its "most dangerous and uncompromising geopolitical opponent."
Naryshkin also accused Washington of plotting to make Russia suffer a "military defeat" in Ukraine, adding that it was a miscalculation. The idea of enforcing "international isolation" on Russia in an increasingly multipolar world was nothing but an "anachronism" as well, he added.
The world is witnessing "growing uncertainty over the potential outcome of the current geopolitical standoff" between Russia and the West in Ukraine, Naryshkin stressed. At the same time, an increasing number of actors in the international arena want to localize the fighting and prevent it from becoming a "trigger for a total military conflict," he stated. (RT)
Azərbaycan24 sosial şəbəkələrdə