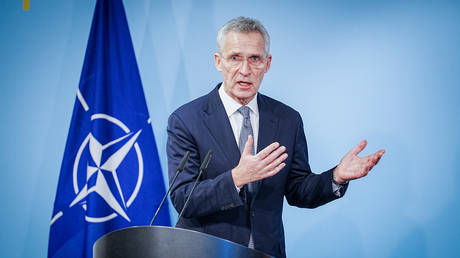 Moscow was wondering if the NATO chief took Western citizens for "morons" when he claimed the bloc is not party to the conflict FILE PHOTO. Jens Stoltenbergduring a press conference. © Kay Nietfeld / picture alliance via Getty Images
NATO is fully engaged in the Ukrainian conflict, and people in member states should see through the deception, when the bloc's leadership claims otherwise, Russian Foreign Ministry spokeswoman Maria Zakharova has said. She cited recent remarks made by its Secretary General Jens Stoltenberg to German media, in which he reiterated the non-involvement claim.
"Do you actually consider the citizens of the EU and NATO total morons?" she wondered, during a media briefing on Friday. "Do you believe that as you send tanks, which require maintenance … you still are not party to the conflict? Who are you, then? Explain. Just invent some new term to identify yourself."
Citizens of NATO states should know: their bloc is fully engaged in confrontation with our nation, and this confrontation is escalating.
Stoltenberg and others who deny Western participation are at odds with German Foreign Minister Annalena Baerbock, who this week shared her assessment that the EU was "at war with Russia," Zakharova observed. Berlin's foreign policy chief has "crossed out" all assurances to the contrary made by the NATO chief, she also said.
Baerbock's remark faced pushback from other members of the EU, who rejected the German official's narrative. Croatian President Zoran Milanovic said that his nation's being at war with Russia was news to him and wished Berlin "good luck this time" unlike during World War II.
Zakharova accused Stoltenberg of "lying to the people of Ukraine for many years" to incite hostilities with Russia. Western leaders also lied when they negotiated the Minsk Agreements, she added, referring to the 2014-2015 deal that was supposed to resolve the conflict in Donbass.
Those agreements were mediated by then-Chancellor of Germany Angela Merkel and then-President of France Francois Hollande, who co-signed a declaration of their endorsement with then-Ukrainian President Pyotr Poroshenko and Russian President Vladimir Putin. Poroshenko, Merkel and Hollande acknowledged last year that, in reality, the process was meant to afford Ukraine time for a military build-up. (RT)
Azərbaycan24 sosial şəbəkələrdə