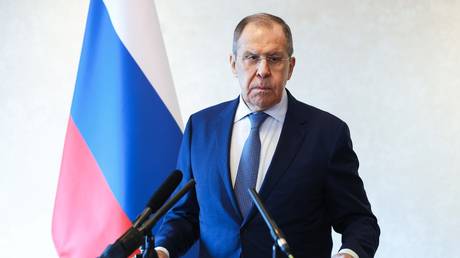 Washington and its allies in Europe have announced plans to launch training programs for Ukrainian pilots Russian Foreign Minister Sergei Lavrov © Russian Foreign Ministry; RIA Novosti
The Russian military has the means to respond to Western fighter jet deliveries to Kiev, Foreign Minister Sergey Lavrov has warned, as he criticized Denmark and the Netherlands for planning to train Ukrainian pilots.
The comments came after Pentagon chief Lloyd Austin said the two European countries would be leading a coalition to prepare Kiev's forces to fly US-made F-16 jets.
Speaking at a press conference in Kenya on Monday, Lavrov stated that the actions of Denmark and the Netherlands were driven by their "desire to please the hegemon."
"In European affairs and at European forums, these countries are actively pursuing Washington's line, first and foremost," Lavrov stated.
When asked to specify what Russia's reaction would be to Western jet deliveries to Kiev, Lavrov said he had "no doubt that our armed forces have the ability to react to this," without providing specific details.
On Sunday, Lavrov also suggested that the US and its allies were "playing with fire" by doubling down on their support for Kiev, and called the West's plans to deliver F-16s "an unacceptable escalation."
"I think there are reasonable people in the West who understand this. But everything is being dictated by Washington, London, and their satellites inside the EU," the minister told the Russia 1 TV channel.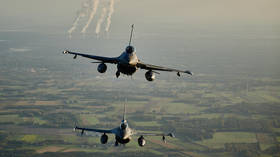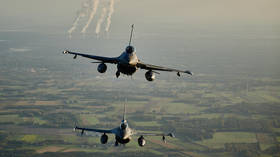 Read more
F-16s for Ukraine won't be a game changer – Bloomberg
Kiev has repeatedly pressed its Western backers to provide F-16 warplanes, arguing that they are crucial for defending Ukrainian airspace.
While the US for months refused to entertain the idea, the administration of President Joe Biden has recently reassessed its position. US National Security Advisor Jake Sullivan told CNN last Sunday that Washington has decided to help Kiev procure the jets, but has not yet decided on how and by whom they will be delivered. Sullivan also claimed that the jets would only serve a defensive purpose and would not be used to strike Russian territories.
Moscow has repeatedly warned that deliveries of more sophisticated weapons to Ukraine only serve to escalate the fighting. Russia has also argued that the provision of arms, intelligence sharing, and training to Kiev makes Western nations de facto parties to the conflict. (RT)
Azərbaycan24 sosial şəbəkələrdə