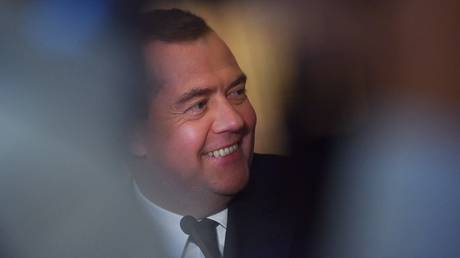 Dmitry Medvedev joked the American was a secret Russian agent who blew his cover FILE PHOTO © LOIC VENANCE / AFP
After Ukrainian President Vladimir Zelensky and Kiev's online troll army savaged Elon Musk's proposal for ending the conflict with Russia, former Russian President Dmitry Medvedev jokingly called the Tesla and SpaceX founder a "shadowy agent" of the Kremlin, comparing him to Stierlitz, the legendary fictional Soviet spy.
"Kudos to [Elon Musk]! However, the shadowy agent has lost the cover. Deserves a new rank, fast. His next tweet will run like, Ukraine is an artificial state. Anticipating…" Medvedev tweeted, in English, on Monday evening.
On his Telegram channel, in Russian, instead of "shadowy agent" the former president called Musk "Eustace" – a reference to the code name of the main character in the Soviet-era series '17 Moments of Spring,' better known under his German alias Otto von Stierlitz.
Both references were clearly tongue-in-cheek and poked fun not at Musk, but at the utter hysterics of the Ukrainian government and its online influencers over the American billionaire's earnest peace proposal.
Crimea would remain Russian and have its water supply guaranteed, Ukraine would declare neutrality, and the four regions that just joined Russia hold UN-supervised referendums on their fate, Musk suggested earlier in the day. The poll was quickly swamped by what he called the "biggest bot attack I've ever seen."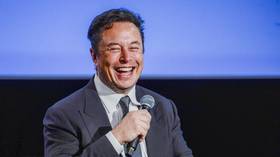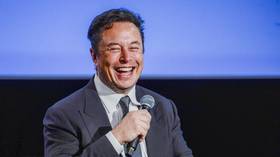 Read more
Elon Musk hammered by Ukraine over peace plan
It wasn't just Kiev's info-warriors and their Western NAFO backers, however. Ukraine's departing ambassador to Germany used some very un-diplomatic language, while President Vladimir Zelensky himself launched a poll asking his followers if they preferred Musk who supported Ukraine over this one, who "supports Russia."
Early on in the conflict, Musk sent hundreds of SpaceX's Starlink satellites and terminals to Ukraine. Though their stated purpose was humanitarian, Kiev has since admitted to using them for the war effort.
Russia sent troops into Ukraine on February 24, citing Kiev's failure to implement the Minsk agreements, designed to give the regions of Donetsk and Lugansk special status within the Ukrainian state. The protocols, brokered by Germany and France, were first signed in 2014. Former Ukrainian President Pyotr Poroshenko has since admitted that Kiev's main goal was to use the ceasefire to buy time and "create powerful armed forces."
Moscow also demanded that Ukraine officially declare itself a neutral country that will never join any Western military bloc. Kiev has rejected this, insisting that the Russian offensive was completely unprovoked. (RT)
Azərbaycan24 sosial şəbəkələrdə