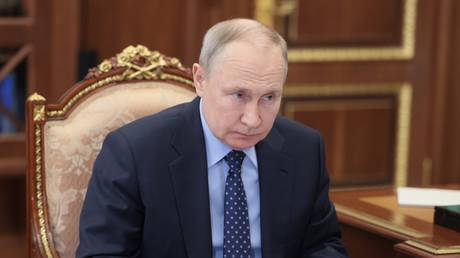 The German outlet cited a US columnist claiming the "easiest way" to end the Ukraine conflict was to kill Vladimir Putin FILE PHOTO: Russian President Vladimir Putin © Sputnik / Mikhail Klimentyev
Germany's Die Welt daily "hit rock bottom" in its anti-Russian zeal last week, the Russian ambassador to Berlin, Sergey Nechaev, said on Monday, in response to an interview with American columnist Fred Kaplan in which he said the "easiest way" to end the Ukraine conflict is for someone to "kill Putin."
Die Welt has left "this de facto call for murder" unredacted and uncommented on and even used it as a headline, Nechaev wrote in a damning post published on the embassy's Telegram account. The envoy was apparently referring to Die Welt's Twitter account, which used the "killing" quote to draw attention to the interview with Kaplan on its social media.
"It is unfortunate that some German media keep crossing all the lines and hitting rock bottom," the ambassador said, adding that "although this is outrageous, it is no longer surprising."
Kaplan made the statement in response to Die Welt's question about the "most plausible scenarios" of ending the military conflict between Moscow and Kiev, which has now been ongoing for now than a year.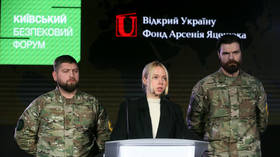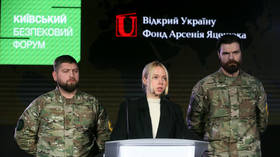 Read more
Germany hosts wife of Ukrainian neo-Nazi regiment commander – media
"The easiest way for this to end is for someone to kill Putin," Kaplan stated, adding that a "new leader" could them come to power, who would declare Russia's military operation in Ukraine "a folly" and gain the support of the Russian elites to end the conflict. The American journalist and political scientist said he does not believe that Moscow will prevail, adding that otherwise the conflict could last "for years" and potentially end with an agreement that would involve the US and China as "guarantors."
The US columnist also admitted that Kiev is fully dependent on US aid and that a halt to this assistance might force the Ukrainian government to "strike a deal" with Moscow. "Without the US assistance, it [Ukraine] would not last long," he said.
Die Welt's choice of a quote has also been met with criticism on social media. One person accused the outlet of being "no longer above … an incitement to murder." "Is it a call for murder?" another person asked, warning that killing the Russian president could also bring "hardliners" to power in Russia, potentially putting the world on the brink of a nuclear war.
The German media outlet has not commented on the criticism so far. Neither the text of the interview nor the Twitter post has been altered in any way as of the time of this writing. (RT)
Azərbaycan24 sosial şəbəkələrdə