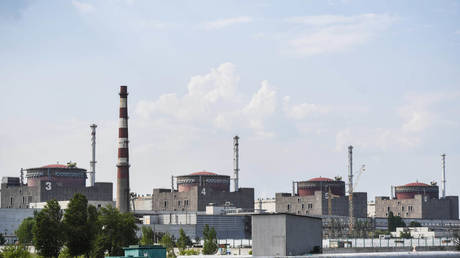 Any moves on the Zaporozhye NPP will be met with a "harsh response," Moscow has said File photo: Zaporozhye nuclear power plant in Energodar, Russia, May 2023. © Sputnik/Konstantin Mikhalchevsky
Moscow will retaliate against any attempts by Kiev to endanger the critical infrastructure of the Zaporozhye nuclear power plant or the city of Energodar, Russian Foreign Ministry spokeswoman Maria Zakharova said on Wednesday.
"Russia will respond extremely harshly to any attacks by Ukraine on the ZNPP, critical infrastructure facilities – including the station's power supply lines – and, of course, Energodar, where the employees of this facility and their families live," Zakharova told reporters during the daily briefing.
Earlier in the day, Russian President Vladimir Putin called the destruction of the Kakhovka dam a "barbaric act" that caused a "massive ecological and humanitarian catastrophe" downstream. Russia has pointed out that the Ukrainian authorities have opened the floodgates at another hydroelectric plant further up the Dnieper River, apparently intensifying the flooding on purpose.
Zakharova noted that the destruction of the Kakhovka dam is already threatening to disrupt the water supply to the ZNPP's reactor cooling system, potentially triggering a meltdown. Chinese and Russian ambassadors to the UN warned the Security Council of this possibility on Tuesday evening.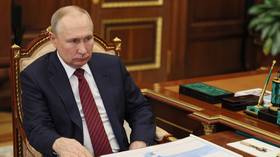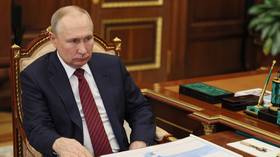 Read more
Putin labels Kakhovka dam attack 'a barbaric act'
"We also do not rule out an attempt at provocation against the Zaporozhye NPP," Russia's permanent representative to the UN, Vassily Nebenzia, told the Security Council, noting that the UN has persistently refused to condemn Ukrainian attacks on the facility, "although it is obvious to everyone which side they are coming from."
Ukrainian artillery had repeatedly targeted the Zaporozhye NPP last year, according to evidence that Russia provided to the UN. In September, Kiev admitted that its artillery had struck Energodar. Ukrainian commandos also attempted to seize the facility ahead of a visit by the International Atomic Energy Agency (IAEA) observer mission, failing to achieve their objective after a quick reaction by Russian security forces.
IAEA head Rafael Grossi insisted on Tuesday that "there is no immediate risk to the safety of the plant." Evgeny Balitsky, the acting governor of Russia's Zaporozhye Region, said that the current water level in the reservoir was "non-routine" but still "acceptable."
The Zaporozhye NPP is Europe's largest atomic power station, with six reactor cores capable of generating a gigawatt of electricity each. Russian troops have controlled it since March last year. The region in which it is located voted to join Russia in September 2022, though Ukraine claims it is illegally occupied. (RT)
Azərbaycan24 sosial şəbəkələrdə