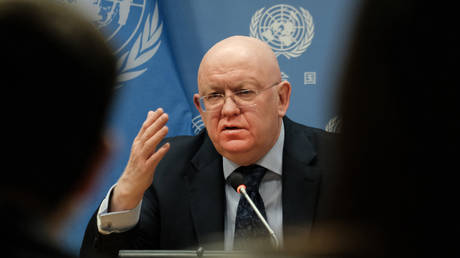 The hostilities can only cease when Kiev stops posing a threat to Moscow, the nation's UN envoy has said Vassily Nebenzia, Russia's Permanent Representative to the United Nations. © Spencer Platt / Getty Images / AFP
The Ukraine conflict may be concluded either through diplomatic, or military means, but only after Moscow has achieved its goals, Russia's permanent representative to the United Nations, Vassily Nebenzia, said on Friday.
Speaking at a briefing at the UN Security Council, the envoy commented on a possible path for ending the hostilities between the two sides. The opportunity to settle the conflict "will only present itself once Ukraine stops posing a threat to Russia and discriminating against Russian-speaking Ukrainians," he said.
Nebenzia noted that "if this result can be achieved through negotiations, we stand ready for this scenario. If not – then our tasks will be achieved by military means."
The diplomat reiterated that Russia is fighting not against the Ukrainian people, but rather against "the criminal nationalist regime which came to power in 2014" after a coup in Kiev. The new Ukrainian leadership has been trying to purge the country of "everything that is related to Russia, and to glorify Nazi accomplices," he said.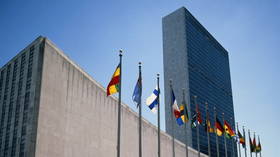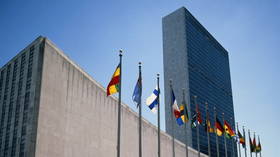 Read more
Ukraine reveals date for 'peace summit' without Russia
Nebenzia stated that "everything could have ended differently for Ukraine," if Kiev had enforced the now-defunct Minsk Agreements, which were signed in 2014 and 2015 in a bid to pave the way for peace by granting the Donetsk and Lugansk People's Republics special status within the Ukrainian state.
However, neither Ukrainian President Vladimir Zelensky or his predecessors, nor France and Germany, which took part in negotiating the Minsk Agreements, ever intended to fulfill the plan, according to Nebenzia. This diplomatic process "only served as a smokescreen behind which they secretly armed Ukraine in order to set it against Russia," he stated.
Last month, former German Chancellor Angela Merkel admitted that the Minsk Agreements were "an attempt to give Ukraine time" so that its army could get stronger. Later, this revelation was confirmed by former French President Francois Hollande, who noted that the Minsk Agreements had helped Ukraine to achieve that goal.
Merkel's and Hollande's confessions caused an uproar in Moscow, with Russian officials describing them as "formalization of betrayal."
In December, Ukraine floated the idea of a "Global Peace Summit," building on Zelensky's "peace formula," which in particular demanded Russia withdraw its troops from all territories claimed by Kiev. Moscow dismissed the plan as ignoring the new status of the Donetsk and Lugansk People's Republics as well as Kherson and Zaporozhye Regions, and Crimea, as parts of Russia.
Kiev wants to hold the summit at the UN headquarters in New York on February 24, with no indication that Moscow would be invited. (RT)
Azərbaycan24 sosial şəbəkələrdə