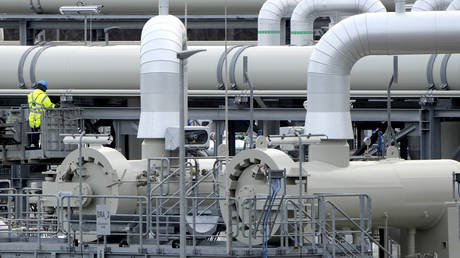 Washington's denial of any involvement in bombing the pipelines is "not trustworthy," Moscow said FILE PHOTO: Pipes at the landfall facilities of the Nord Stream 2 gas pipeline are seen in Lubmin, Germany, February 15, 2022. © AP / Michael Sohn
The US government is obstructing efforts to investigate the sabotage of the Nord Stream natural gas pipelines, which sustained major damage in a series of mysterious explosions last year, Russia's embassy in Washington has said.
The embassy issued a statement late on Thursday night in response to recent comments from Secretary of State Antony Blinken, who insisted the United States had no role in apparent attacks on the two Nord Stream lines during a congressional hearing.
"We have to remind that statements by US officials, who have repeatedly resorted to deceit and disinformation, including at international fora, are not trustworthy," it said, adding that while the US has cited "ongoing national investigations" in Europe, it continues to block Russia's own attempts to find answers.
Explanations from US officials do not "withstand criticism," the embassy continued, "above all due to their lack of transparency and blocking access to PJSC Gazprom (the owner of the pipelines!) to determine the circumstances of the sabotage."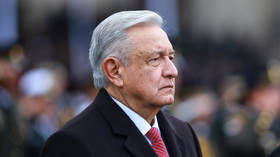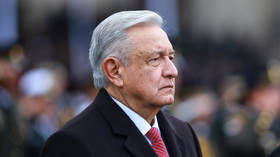 At a House Foreign Affairs Committee hearing earlier on Thursday, Blinken was asked whether he could "assure the world that no agency of the US government blew up those pipelines or facilitated that," saying "Yes, I can" without elaboration. He previously maintained that sabotage on the Nord Stream would be "in no one's interest," and has accused Moscow of "outrageous misinformation" on the issue.
The Russian embassy went on to point out "public threats" from American officials to "bring an end" to the gas lines – among them President Joe Biden himself – also noting prior "remarks concerning the unacceptance of mutually beneficial energy ties between the Russian Federation and Europe." Given Washington's opposition to an independent probe, it asked whether US officials have "something to hide."
"We consistently and persistently call for the launch of an impartial and transparent international investigation into the attacks against the Nord Stream pipelines. However, the United States, along with a narrow group of like-minded states, vehemently oppose such efforts," it added.
Comprised of two separate pipelines which run through the Baltic Sea, the Nord Stream lines were attacked in a string of apparent bombings last September, leaving them temporarily inoperable due to major leaks. Though neither was in operation at the time of the blasts, the pipelines are intended to carry natural gas from Russia into Germany and are majority-owned by Gazprom, Moscow's state-run energy firm. Russian officials have repeatedly pressed for an international investigation into the incident, though to date the results of local probes in Europe have been largely kept under wraps. (RT)
Azərbaycan24 sosial şəbəkələrdə