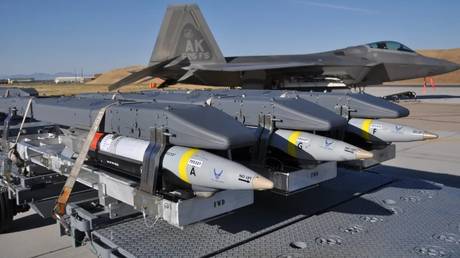 Moscow said Washington has effectively encouraged attacks on Russian territory FILE PHOTO: US-made GBU-39 Small Diameter Bombs, a component of a new weapon system approved for Ukraine, are seen while being loaded on an F-22 Raptor. © US Air Force / Tech. Sgt. Dana Rosso
The decision to supply Ukraine with longer-range missiles marks a "deliberate escalation" by the United States, Russia's ambassador to Washington has said, warning that Moscow would not tolerate strikes on Russian cities.
In a statement on Friday evening, Ambassador Anatoly Antonov commented on the latest round of US military aid approved for Ukraine earlier in the day, which is set to include Ground Launched Small Diameter Bombs (GLSDB) – munitions with an operational range of 93 miles (150 kilometers).
"Washington sees no boundaries in seeking to inflict a strategic defeat on Russia. The transfer of increasingly powerful weapons to the Kiev regime is a deliberate escalation of the conflict by the United States," he said, adding "Any attempt to harm the Russian Federation is doomed to failure. The sooner the United States realizes this, the sooner the current conflict will end."
Though the Pentagon did not mention the GLSDB by name in announcing the weapons transfer, Brigadier-General Patrick Ryder later confirmed that it would be included in the next round of aid, also noting that US officials would not stop Kiev from using the missiles to strike inside Russia.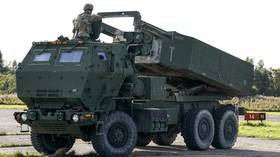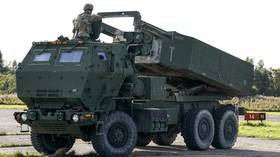 Fired from the US-supplied HIMARS missile launcher, the GLSDB is among the longest-range weapons authorized for Kiev to date, and could theoretically reach targets deep within Russian territory.
Antonov went on to say the United States is "de facto inciting its proteges to attack Russian regions," arguing that Moscow makes no distinction between newer territories which voted to join the Russian Federation last year and other Russian lands.
"For us there is no difference when we talk about a possible attack by Kiev criminals on the Zaporozhye or Bryansk regions, the Crimea or the Smolensk region," he continued.
Though the new weapons could take up to nine months to reach the Ukrainian battlefield, Russia has already suggested how it might react, with President Vladimir Putin ordering the military to eliminate "any possibility" of Ukrainian strikes on Russian territory earlier this week. Foreign Minister Sergey Lavrov, meanwhile, said Russian forces would repel Ukrainian soldiers to a distance from which they would not pose a threat, declaring: "the longer range the weapons supplied to the Kiev regime have, the further the troops will need to be moved."
Washington has authorized 31 separate arms transfers to Ukraine since the conflict erupted last year, worth a total of some $30 billion, including multi-launch rocket platforms, artillery pieces, drones, anti-tank and anti-aircraft munitions, armored vehicles and a Patriot missile defense battery, among other hardware. Despite Moscow's repeated warnings that the weapons will only escalate hostilities and make a negotiated settlement impossible, US officials have said assistance to Kiev would continue for "as long as it takes." (RT)
Azərbaycan24 sosial şəbəkələrdə