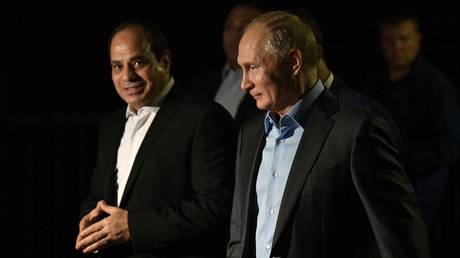 Heads of African countries have flocked to Russia for a first of its kind summit, where Moscow will be offering business ties and security arrangements alternative to 'colonial-style' relations with the West.
Over the past decade, the African continent has become a battleground for geostrategic competition involving China, the US, and the EU, which compete with each for military access, economic superiority, and soft power supremacy.
Countries like India, South Korea, and Gulf monarchies have interests in Africa too. So does Russia, which has the advantage of old ties in the region and touts itself as an ideology-free pragmatic partner that wouldn't leverage its offers to extort geopolitical allegiances.
"We have something to offer our African friends. This, in particular, will be discussed at the upcoming summit. And of course, we aim, together with our African partners, to uphold common economic interests and protect them from unilateral sanctions, including by reducing the share of the dollar and switching to other currencies in mutual settlements," Russian President Vladimir Putin said in a recent interview for TASS.
Biggest gathering ever
With that in mind the Russian leader will be hosting this week a two-day event meant to further that ambition. The Russia-Africa summit in Sochi expects over 3,000 guests, including 44 presidents and prime ministers of African nations.
Also on rt.com Traditional Russian ice cream melts the heart of Africa
It's the first time in Russia's modern history that it welcomes so many African dignitaries at once. Even the protocol part, which requires Putin to shake hands and exchange polite words with each visiting head of state, is expected to take at least an hour.
The Russian president will then be holding a marathon series of talks with at least a dozen of foreign leaders. Those include Egypt's Abdel Fattah el-Sisi, who also co-chairs the gathering in his capacity as chair of the African Union. The bilateral talks are expected to extend beyond Thursday evening, when the summit itself ends. (RT)
Azərbaycan24 sosial şəbəkələrdə