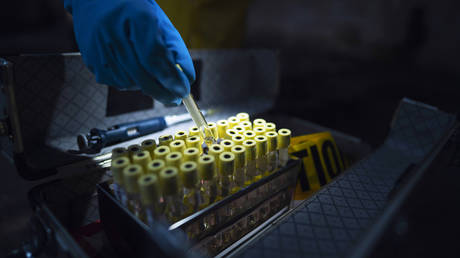 Moscow claims the individuals conducted research focused on testing and developing new deadly weapons © Getty Images/SrdjanPav
Russian troops have obtained over 20,000 documents pertaining to American biological research programs in Ukraine since the start of Moscow's military operation, the country's Defense Ministry announced on Monday.
The most recent trove brought to light a number of key players in these projects who had previously "remained in the shadows," according to the commander of Russia's Nuclear, Biological and Chemical Defense Forces, Lieutenant General Igor Kirillov.
The ministry had previously published the names of people connected to the biolabs, which included representatives of the US Democratic Party, Defense Department officials, and Pentagon contractors.
The new list features people such as Karen Saylors, the executive director of Labyrinth Global Health, who reportedly worked in Ukraine as a lead consultant for a project that studied the spread of African swine fever.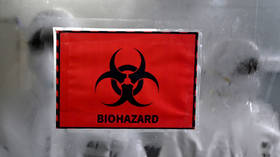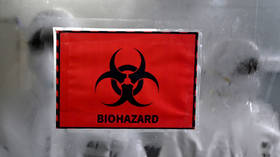 Read more
US moving bioweapons research out of Ukraine – Moscow
Also on the list is Colin Johnson, a fellow at the University of Tennessee and director of the Institute for Host-Pathogen Systems, who allegedly studied the Crimean-Congo fever and hantaviruses in Ukraine and was in charge of collecting biological samples from Ukrainian military personnel.
The ministry provided the names of six more people believed to have also been involved in US bioresearch in Ukraine. Kirillov noted that all the evidence pertaining to these individuals will be handed over to Russia's Investigative Committee, which will decide on the appropriate measures for the alleged perpetrators.
In his statement, Kirillov noted that Russia's decisive actions in Ukraine have already effectively stopped Washington's bioweapons research projects in the country. However, he cautioned that the US is now actively working to transfer the unfinished research to countries in Central Asia and Eastern Europe.
Last month, Russia submitted data on illegal US-backed laboratories in Ukraine to the Organization for the Prohibition of Chemical Weapons conference. According to the Russian Defense Ministry, that data included documentary evidence that work with components of biological weapons and studies of especially dangerous pathogens had been carried out in Ukraine with financial, scientific, technical and personnel support of the US. Washington has rejected Moscow's accusations, calling them disinformation. (RT)
Azərbaycan24 sosial şəbəkələrdə