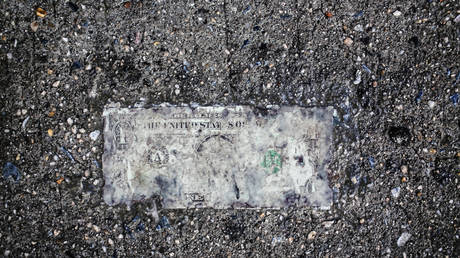 The greenback has become an unreliable unit of account, says Finance Minister Anton Siluanov © Getty Images / Chad Springer
Russia no longer has trust in the US currency because it has become an unreliable financial instrument, Finance Minister Anton Siluanov stated on Monday.
He pointed out that the US dollar, euro, and British pound – the main reserve currencies – had once been considered the top units of account. "The situation has shown that now this [dollar] is a completely unreliable instrument … Therefore, we have no confidence in this kind of unit of account. It is lost," Siluanov told Russia's Channel One channel.
He also pointed out that Russia has been switching to trade in other currencies, particularly "in rubles and, of course, currencies from other friendly countries, such as the yuan."
Moscow has been steadily pursuing a policy of de-dollarization in foreign trade. In recent years, Russia and some of its trade partners, including India and China, have been ramping up the use of domestic currencies in mutual settlements in an effort to move away from the dollar and euro.
Siluanov highlighted that in 2021 a significant part of financial transactions in Russia were carried out in dollars and euros. "About one third of settlements were then carried out in rubles, while now more than half, about 55%, are conducted in rubles and friendly currencies," he said, adding that this figure will continue to grow.
According to the minister, the economic wellbeing of citizens is more important than exchange rates. "We are most concerned about how the economy will develop, how the income of the population will grow, what kind of employment we will have," he concluded.
For more stories on economy & finance visit RT's business section
Azərbaycan24 sosial şəbəkələrdə