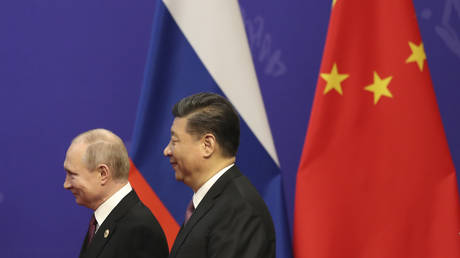 The Russian president has lauded the strengthening relations between the two nations and joint efforts in building a multipolar world FILE PHOTO. © Getty Images / Kenzaburo Fukuhara
Beijing and Moscow are working together to shape "a more just multipolar world" and the ties between two countries are now "at the highest level in their history," President Vladimir Putin said in an article, released on the eve of a visit by his Chinese counterpart Xi Jinping to the Russian capital. The piece, penned by Putin for China's leading People's Daily, was released late on Sunday by the Kremlin's press service.
"The progress made in the development of bilateral ties is impressive. The Russia-China relations have reached the highest level in their history and are gaining even more strength; they surpass Cold War-time military-political alliances in their quality, with no one to constantly order and no one to constantly obey, without limitations or taboos," Putin wrote, praising the "level of trust in our political dialogue, our strategic cooperation" Beijing and Moscow had achieved.
The two nations are busy shaping "a more just multipolar world," Putin noted, lauding Beijing's Eurasian international efforts under the One Belt, One Road Initiative, as well as China's Global Security Initiative, envisioning comprehensive, cooperative and sustainable security.
"Our countries, together with like-minded actors, have consistently advocated the shaping of a more just multipolar world order based on international law rather than certain 'rules' serving the needs of the 'golden billion.' Russia and China have consistently worked to create an equitable, open and inclusive regional and global security system that is not directed against third countries," Putin wrote.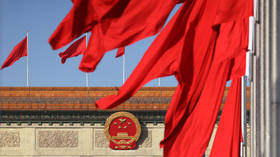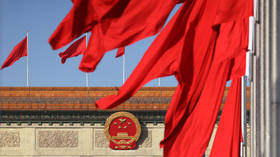 Beijing and Moscow have been "literally and figuratively building bridges," the president noted, with their actions drastically different from those undertaken by "some countries claiming hegemony and bringing discord to the global harmony."
"We actively promote democratic multilateral structures such as the SCO and BRICS, which become more and more authoritative and influential and attract new partners and friends," he said.
Putin also touched upon the ongoing conflict with Ukraine, re-iterating Moscow's readiness to seek a diplomatic solution for it, as well as expressing his gratitude to Beijing's "well-balanced stance" on the hostilities. Recently, China unveiled a 12-point peace roadmap, which was welcomed by Moscow, yet was received poorly by Kiev's Western backers.
The Chinese leader is set to arrive in Moscow for his state visit on Monday. It is set to become Xi's first foreign trip since he secured an unprecedented third term as China's president. (RT)
Azərbaycan24 sosial şəbəkələrdə