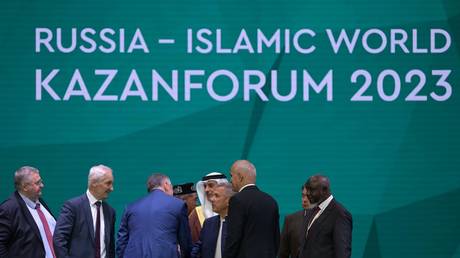 Nations must "quickly move" to a multipolar international system, Syrian ambassador to Moscow Bashar Jaafari told RT Speakers gather for a panel session at the International Economic Forum 'Russia – Islamic World' in Kazan, Russia, on May 19, 2023. © Sputnik / Evgeny Biyatov
Russia and Islamic nations share many common views on global affairs and geopolitical developments, Syrian ambassador to Moscow Bashar Jaafari has told RT, speaking this week on the sidelines of Russia's International Economic Forum in the city of Kazan.
Ambasssador Jaafari reasoned that Moscow and Muslim nations should send what he called a crystal-clear political message about this shared vision, as it is "urgent" for the world to hear it.
Statements made by the participants of the 'Russia-Islamic World' forum – which hosted over 7,000 attendees from 85 nations – only strengthened this view, he added.
"I heard today such beautiful and fruitful and very interesting statements coming from here and there, from the participants," he remarked, calling for a formal "political declaration" to be signed by Russian and Islamic leaders.
Jaafari did not say exactly what such a document would include but explained that the existing model of international relations needs to change soon. "The world needs to quickly move from the unipolar system to the multipolar system," he said, arguing for the need for "more balance" and "more justice."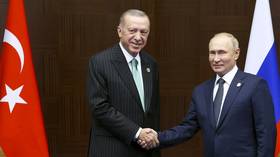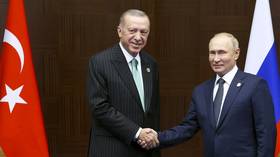 Read more
Erdogan hails 'special relationship' with Putin
"Enough sanctions, invasions, overthrown governments," the ambassador said, suggesting that people are "fed up" with the belligerent foreign policy of Washington and its allies. "Enough is enough," he said.
The envoy accused Washington of hypocritical policies, saying it supports Syria's territorial integrity and independence in name only during voting at the UN Security Council, while still occupying parts of its territory.
In addition to targeting Damascus with sanctions, "they steal our oil and gas, and our wheat harvest, causing huge economic damage to our nation," Jaafari said. He also praised what he called the "century-long history of relations" between Syria and Russia, ties that go "beyond" the strategic level.
Earlier this month, Syria was invited back into the Arab League after a 12-year suspension from the organization. That decision followed a high-level meeting in Amman between Syria, Saudi Arabia, Jordan, Egypt and Iraq, where all parties vowed to "support Syria and its institutions to establish control over all of its territory and impose the rule of law." Damascus also restored diplomatic relations with Riyadh this month, nearly a decade after the nations cut ties.
Azərbaycan24 sosial şəbəkələrdə