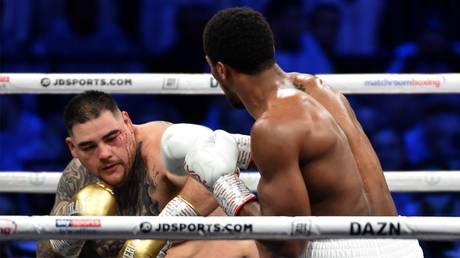 RT Sport scored the fight round by round as Anthony Joshua reclaimed the WBA, IBF and WBO world heavyweight titles. See how we scored the fight as Joshua returned to the top of the heavyweight tree
Ruiz noticeably more aggressive early on than he was in the first fight, taking the center of the ring and pushing forward. Joshua looking relaxed, but content to work from the outside, popping out the jab. Beautiful right hand lands to the eye of Ruiz and leaves the champion cut. Just the start Joshua wanted.
10-9 JOSHUA
ROUND 2
Ruiz coming forward undeterred by his early cut, but Joshua is starting to find his mark with his right hand. Another right re-opens the cut on Ruiz's left eye. Joshua keeping things at range with smart footwork, and connects with a big left hook to the body. Joshua starting to loosen up and land cleanly with jabs, while Ruiz is struggling to get inside and land. Joshua lands a big shot after a clinch, but a clash of heads leaves the Brit cut.
10-9 JOSHUA / 20-18 JOSHUA
ROUND 3
Same pattern as the opening two rounds, with Joshua controlling the range with his jab and his footwork, while Ruiz looks to lean in with jabs of his own. Ruiz narrowly misses with a left hook. After a round of barely being touched, Joshua lands a slick three-punch combination, finishing with a hook to the body, as he takes the round with ease.
10-9 JOSHUA / 30-27 JOSHUA
ROUND 4
Ruiz starts to have some success in closing the distance on Joshua and connects with some solid-looking shots. Joshua's jab isn't popping out as frequently, but Ruiz is starting to move into range. Joshua connects with a good right hand and misses with a big left, but Ruiz aonnects with a big shot of his own that briefly stiffened the legs of the challenger. Much closer round, but AJ landed the cleaner shots overall.
10-9 JOSHUA / 40-36 JOSHUA
ROUND 5
Ruiz chases Joshua, but doesn't have the foot speed to close the distance and get into punching range. Joshua stings Ruiz with a slick one-two combination in the final minute of an otherwise quiet round to stay well on top.
10-9 JOSHUA / 50-45 JOSHUA
ROUND 6
They're much closer together in the sixth and Ruiz wakes up Joshua with a pair of solid punches, and Joshua responds in kind. Joshua continues to score with his accurate jab and circles away from the champion. Then, with Ruiz caught following the challenger, Joshua steps in with a big left hook that connects cleanly for the best punch of the fight so far. Ruiz takes it well and continues to plod forward, but is being made to look pedestrian by the Brit.
10-9 JOSHUA / 60-54 JOSHUA
ROUND 7
It's one-way traffic, and Ruiz is starting to look a little frustrated. He's admonished by the referee for an illegal punch to the back of Joshua's head. But in truth it's one of the few shots he's landed so far. Joshua slips while looking for a straight right, but recovers before falling to the canvas. They go toe to toe and Joshua does well to avoid a pair of Ruiz haymakers. Joshua connects with another solid right as he takes another round with relative ease.
10-9 JOSHUA / 70-63 JOSHUA
Azərbaycan24 sosial şəbəkələrdə