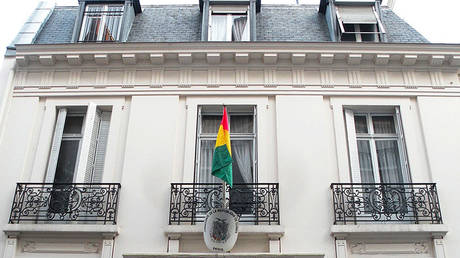 Protesters have clashed with riot police outside the Guinean embassy in Paris after opposition figures contested the first round of the country's presidential election.
Guinean President Alpha Conde and opposition candidate Cellou Dalein Diallo have both declared victory as results from the country's election on October 18 come in, setting up a standoff between the two sides.
The disputed results caused clashes in opposition areas of the country, with supporters of Diallo getting injured and setting furniture on fire during skirmishes that have been ongoing since the election. Now, those clashes have spilled onto the streets of France, as people gathered outside Guinea's embassy in Paris to protest against the incumbent president.
As riot police attempted to disperse protesters and push them back from the embassy, tensions mounted and the situation turned violent, with demonstrators hurling bottles and, according to eyewitnesses, officers firing tear gas into the crowd.