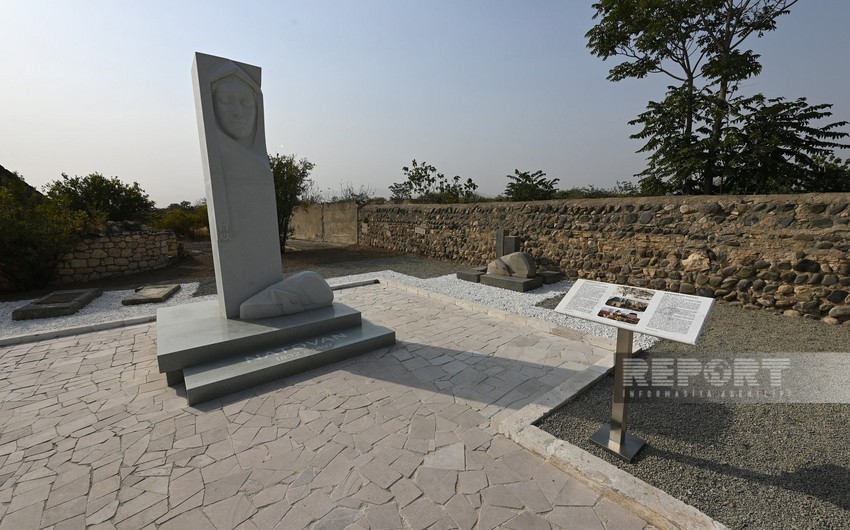 Large-scale construction and restoration work is being carried out in Azerbaijan's Aghdam district liberated from occupation.
Report's staff sent to Aghdam first visited the tombstone of Khurshidbanu Natavan, which was inaugurated by Azerbaijani President Ilham Aliyev and First Lady Mehriban Aliyeva on October 4.
Taking into account the celebration of the 190th anniversary of Khurshidbanu Natavan this year, by order of President Ilham Aliyev dated March 14, 2022, the Ministry of Culture began work on the restoration of this tombstone in the anniversary year.
The grave monument of the poetess was made by the sculptor Kanan Aliyev in accordance with its original appearance from gray granite 350 centimeters high and installed in its original place. Rafi Zeynalov, who carried out stone-cutting work during the erection of a tombstone in Aghdam in 1982, the author of which is Eljan Shamilov, 40 years later did the same work for a similar monument. In this regard, a short film has also been prepared in which Rafi Zeynalov shares his memories.
Then the media representatives visited the village of Khidirli in the Aghdam district, the foundation of which was laid on October 4 with the participation of President Ilham Aliyev and First Lady Mehriban Aliyeva.
There are plans to accommodate 5,990 people (1,500 families) in the village of Khidirli, located 3 kilometers from the center of Aghdam city. The total project area is 418 hectares. Taking into account the household load of the population that will live here, a land plot of 160 hectares was allocated at the first stage of the construction of the quarters. At the first stage, 2,951 people will be resettled in the village, for whom it is planned to build 719 private houses. Construction work in Khidirli will begin on October 10 this year. Construction in the village is planned to be completed on April 10, 2024.
Media representatives also got acquainted with the work done on the recently built Barda-Aghdam highway, 44.5 kilometers long and 26.5 meters wide. The highway, built in accordance with the first technical level, taking into account the development plan of Karabakh, consists of four traffic lanes. It is planned to build four bridges along the road, including three roadside pedestrian crossings. Also, 29 bus stops are being built on the highway. Construction of 14 of them has been completed.
Azərbaycan24 sosial şəbəkələrdə