A total of four blasts hit the gas pipelines last September, Norwegian scientists have claimed Gas leaking from Nord Stream 2 seen from a Danish F-16 interceptor near Bornholm, Denmark, September 27, 2022 © Getty Images / Danish Defense
Seismic data indicates that four separate explosions struck the Nord Stream gas pipelines last year, Norwegian researchers told The Guardian on Tuesday. These explosions destroyed three of the four Nord Stream lines.
Seismologists at Norsar, a foundation set up to monitor earthquakes and underground nuclear tests under the Comprehensive Nuclear Test Ban Treaty, initially identified two explosions along the Nord Stream pipelines last September. One blast hit Nord Stream 2 at 2:03am local time on September 26, 2022, while the second hit Nord Stream 1 at 7:03pm.
Poring over data collected that day, the Norsar team found that two additional blasts took place seven and 16 seconds after the second explosion.
Nord Stream 1 and Nord Stream 2 each comprise two separate pipelines. With three out of the four lines destroyed, the use of more than two explosive devices was already considered likely. However, Norsar is the first investigatory body to publicly confirm this suspicion.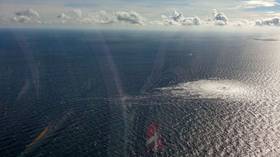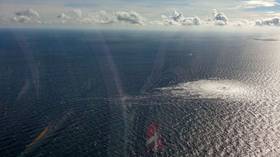 Both sets of Nord Stream pipelines were severed near the Danish island of Bornholm. According to Norsar, the second and third explosions took place within 220 meters of each other, while the fourth took place several kilometers away.
The governments of Denmark, Germany, and Sweden are all investigating the blasts, though none has released any findings, and all have prohibited Russia from participating in the probes.
In the meantime, two competing theories have emerged as to who was responsible for sabotaging the pipelines. According to reports in the Western mainstream media, a team of Ukrainian commandos used a rented yacht to transport explosives to the blast sites, with the CIA and European intelligence agencies being made aware of the plot several months beforehand. Reports by the Washington Post and the Netherlands' NOS news network claim that the CIA told the Ukrainians to abort the plan.
However, American journalist Seymour Hersh has said that US President Joe Biden ordered the CIA to blow up the pipelines. Citing sources in the intelligence community, Hersh has claimed that CIA divers working with the Norwegian Navy planted remotely-triggered bombs on the lines last summer, using a NATO exercise in the region as cover.
By destroying the pipelines, Biden intended to sever Germany's energy ties to Russia, thus preventing Berlin from lifting sanctions on Moscow in order to save its gas-dependent economy, Hersh argued.
Biden warned in early February that in the event of military action by Russia, "there will no longer be a Nord Stream 2. We will bring an end to it."
Russian President Vladimir Putin said in March that he "fully agrees" with Hersh's conclusions. Putin argued that the US in particular benefited from the attack due to its position as a competing gas supplier to Europe. (RT)
Azərbaycan24 sosial şəbəkələrdə