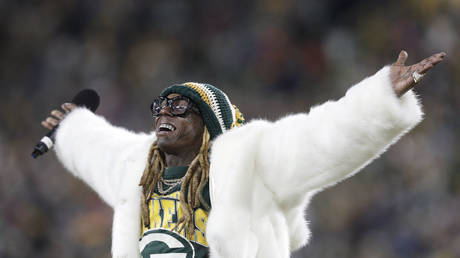 Rapper Lil Wayne became the latest black entertainer to endorse or show willingness to work with President Donald Trump – an offense deemed such a betrayal by leftists that all the rules on racist attacks went out the window.
Lil Wayne met Thursday in Miami with Trump to discuss the president's "Platinum Plan" for investing $500 billion in black communities. The rapper tweeted out a picture of himself with the president and praised Trump for taking action to help black Americans.
The Twitter rage mob was inconsolable in response. "Lil Wayne's coon chip activated?" black comedian Jessica Frye tweeted Thursday night. Another offended observer said, "Uncle Tom's Cabin must be Lil Wayne's favorite book."
Another commenter claimed to be ahead of the crowd in spotting the rapper's tendency to get along with white people: "Everyone is so late to the party that Lil Wayne is a self-hating Uncle Tom dust mite." Writer Bryson Henry called Lil Wayne "a contrarian coon" who is now "full-fledged, just like Mr. (Kanye) West," while comedian Karlous Miller was simply in disbelief that "Lil Wayne did that."
West set off alarm bells with the skin-color police when he met with Trump in 2017 and again the next year, when he sat down with the president in the Oval Office. Little did critics know then that West, now a presidential candidate himself, was starting a trend of wildly successful rappers cozying up to Trump.
Also on rt.com 'F**k Sleepy Joe!' Rapper Lil Pump records VIDEO endorsing Trump & blasting Biden's tax plan
Another rapper, Ice Cube, was hit with backlash earlier this month after merely agreeing to work with Trump on the Platinum Plan. He was forced to explain himself in a CNN interview, saying that he's on no one's team and is willing to work with "whoever is in power" to help black Americans. Still, CNN called Ice Cube's willingness to help the president set investment priorities "a huge mistake which hurts the entire African American community."
Also this month, rapper 50 Cent said he will vote for Trump because Democrat presidential candidate Joe Biden's policies would cause his taxes to skyrocket. Although 50 Cent has been critical of Trump, he, too, was hit with angry reactions. White comedian Chelsea Handler, who dated 50 Cent in 2011, said, "I had to remind him that he was a black person, so he can't vote for Donald Trump."
Also on rt.com 'I had to remind him that he was a BLACK PERSON': Chelsea Handler WHITESPLAINS blackness to 50 Cent after rapper backed Trump
Even for 50 Cent, Lil Wayne's move on Thursday was too overtly pro-Trump. "Oh, no Wayne," he tweeted. "I would have never took this picture."
It's easy to see why leftists such as Handler would be disturbed by popular black entertainers voicing support for Trump. Democrats have long relied on their stranglehold on black votes for electoral success. (RT)